The Economic Survey, 2013-14, released on Wednesday, calls for a sharp fiscal correction by introducing a new fiscal policy framework, with stringent penalties for not adhering to the fiscal-consolidation target.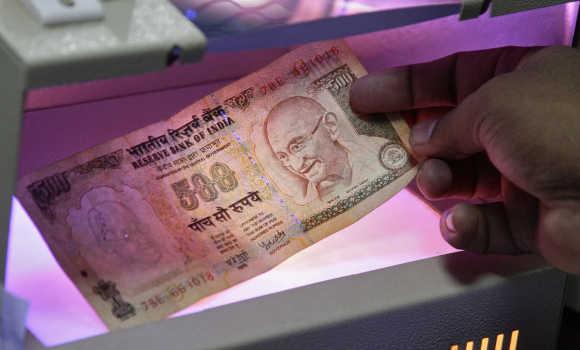 "The fiscal situation of the Central government is worse than it appears, given the acceleration of inflation from 2006 to 2014," noted the Survey, tabled in Parliament by Finance Minister Arun Jaitley.
The previous United Progressive Alliance government had projected a fiscal deficit target of 4.1 per cent of gross domestic product (GDP) in the interim Budget but it was criticised for doing so by rolling over some liabilities.
Please click here for the Complete Coverage of Budget 2014 -15
If suggestions from some Bharatiya Janata Party-inclined economists are accepted by the Narendra Modi government, Jaitley might revise the fiscal deficit target upwards in the full Budget, to be tabled in Parliament on Thursday.
D K Srivastava, chief policy advisor at EY, said the key message of the Economic Survey is that commitment to fiscal consolidation and the inflationary overhang are constraining the scope for accelerating growth, given the deficient monsoon, sluggish export prospects, and global crude price pressures.
Fiscal deficit was contained at 4.5 per cent of the GDP in 2013-14, lower than the Budget estimate of 4.8 per cent as the finance ministry significantly compressed expenditure.
The Survey acknowledged that despite a shortfall in tax revenues and disinvestment receipts, and higher-than-budgeted subsidies, interest, and pension payments, the fiscal consolidation was mainly achieved through a reduction in grants for creation of capital assets and capital expenditure.
It said cutting expenditure is unsustainable and stressed improving the quality of fiscal consolidation by improving the tax-to-GDP ratio and addressing the key risk of food, fertiliser and petroleum subsidies.
"The Fiscal Responsibility and Budget Management Act needs to take into account business cycles and to have penalties that are strong enough so that it cannot be ignored," it pointed out.
Industry chamber CII supported the need for a fiscal consolidation roadmap backed by an FRBM Act with teeth, ensuring greater transparency and improved budget management to step up the quality of fiscal deficit by boosting capital expenditure to re-energise investments and contain inflation.
Please click here for the Complete Coverage of Budget 2014 -15