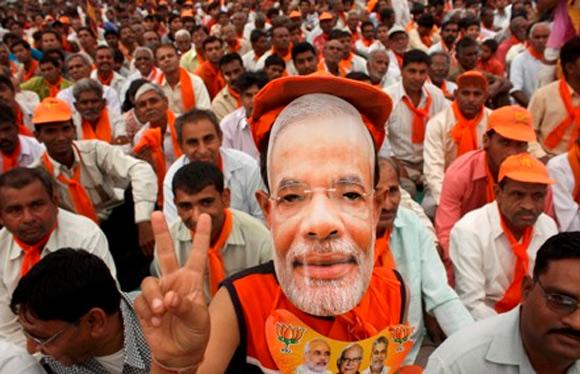 Narendra Modi government's first budget is "pragmatic, growth-oriented and forward-looking" and addresses the aspirations of all Indians,
BJP on Thursday said while claiming the exercise had brought back "hope" into the economy by charting a roadmap for the country's economic resurgence.
"Every attempt has been made to meet the aspirations of all Indians and to assuage their pain. This is a balanced budget and the concerns of every section, including the middle class, have been addressed.
Please click here for the Complete Coverage of Budget 2014 -15
In addition, several positive steps have been taken to improve the growth rate," said Modi's close aide Amit Shah, the newly-appointed BJP President.
"This budget brings back 'hope' into the economy. It also lays the building blocks for our dream of 'Ek Bharat, Shreshtha Bharat'," he added. Complimenting Finance Minister Arun Jaitley for presenting the first budget of the Modi government, Shah said it addresses the issues raised in the BJP manifesto.
"Our motto of 'Sabka Saath, Sabka Vikaas' is truly reinforced in this budget," he said. "It gives me immense pride to see our party chart the future of India with such clarity and specificity which benefits all Indians. There is no doubt that this will be remembered as a growth-oriented and positive budget for a long time to come," he added.
Shah, who only on Wednesday took over as the new party chief, said that with this budget, "The government has charted a roadmap for the economic resurgence of India."
Saying that several positive steps have been taken to improve the growth rate, Shah praised the Finance Minister for laying down a comprehensive action plan for the revitalisation of the Indian economy.
"The budget lays the foundation for rebuilding India based on the principles of transparency and 'minimum government, maximum governance'. It sets the pace for greater financial inclusion of the weaker sections," Shah said.
Please click here for the Complete Coverage of Budget 2014 -15