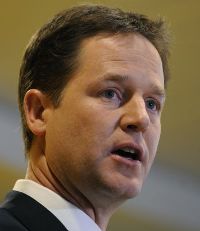 United Kingdom Deputy Prime Minister Nick Clegg on Monday met Finance Minister Arun Jaitley and discussed various matters of mutual interest, including the retrospective tax amendment issue.

Jaitley, according to sources, explained the government's position on the retrospective tax amendments with reference to the tax cases of Vodafone and Cairn Energy.

The government has maintained that the legal process will continue in the Vodafone case, while the high level committee of the Central Board of Direct Taxes will look into cases where the legal process has not yet been initiated.

Besides the taxation matters, the issues concerning investment in sectors like energy, aerospace and education also figured during the discussion.

Earlier in the day, Clegg met Prime Minister Narendra Modi.

British telecom giant Vodafone is facing a tax liability of about Rs 20,000-crore (Rs 200 billion) because of retrospective tax amendment carried out by the previous United Progressive Alliance government.

The dispute will be resolved through arbitration.

As regards Cairn Energy tax case, the high level committee of the CBDT will take a view with regard to the resolution of the dispute.

It is not yet clear whether it would be resolved by the Committee or through the legal process.

The energy company faces a potential tax demand on an alleged Rs 24,500 crore of capital gains it made when in 2006 following transfer of its India assets to a new company, Cairn India.

In his budget speech in July, Jaitley had clarified that the Government would not ordinarily bring about any change retrospectively which could create fresh tax liability.
Image: Nick Clegg ' Photograph: Toby Melville/Reuters