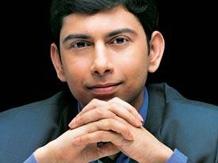 It was May 18, 2009.

The United Progressive Alliance had returned to power at the Centre without Left support.

The Sensex had hit the upper circuit, having gained a whopping 2,000 points, and trading was halted.

As euphoria spilled over to the Street, words were becoming insufficient. But, in the visual medium of television, words are not all you got.

Ask Udayan Mukherjee, managing editor, CNBC-TV18.

That day, he did the unthinkable. A little nudge from co-anchor Mitali Mukherjee helped shed the inhibitions, if any.

"Go on, Udayan," she said looking at the unbelievable prices flashing on the computer screen, "that screen deserves something."

And, Mukherjee lifted the laptop, hugged it close to his chest and then lifted it up and planted a kiss on its screen.

Mukherjee, who stepped down earlier this week, was the first full-fledged market commentator Indian business television knew of.

In fact, there was hardly any dedicated business channel or live stock market commentary before he and his channel came around, old timers said.

Though business journalism had developed enough depth in the print media, television was, as the market cliche goes 'an uncharted territory.'

The rise of Mukherjee and his channel coincided with one of the spectacular bull runs in the history of the Indian markets, when the Sensex zoomed seven times in a matter of four years and a half.

Putting behind the dotcom bust and the post-9/11 baggage, the index crossed 3,000 in May 2003 and then never really looked back till the winter of 2008, when it hit 21,000.

Mukherjee was one of the lucky ones who took that ride.

Deepak Mohoni, a Pune-based market analyst who coined the term Sensex, said: "He was at the right place at the right time.

They produced a good show investors were looking for at that point of time and it clicked. Today, everybody does it, so it's no longer unique."

According to Mohoni, when the market was gathering steam between 2004 and 2007, the guests were good and discussions were of high quality.

Mukherjee and his team had the field wide open, with practically no competition on the radar.

To its credit, the channel had also managed to build the buzz around the otherwise boring, numbers-ridden results season into a party everyone wanted an invite for.

By the time competition eventually emerged, there were already fights among companies announcing quarterly results, those coming up with initial public offerings and other hidden gems to be on "Udayan's show".

This brand-equity was in turn leveraged to score over competition, say rivals. Companies whose chief executives chose to talk to competition on result days risked losing air time on the leading channel.

Some cried foul, many fell in line. Ramesh Damani, member, BSE, who has watched Mukherjee grow through the years, compares him to Public Broadcasting Services' Wall Street Week with Louis Rukeyser. "It's said the President or the public, they all watched him (Rukeyser).

Udayan was like that.

"He defined the coverage of markets here. For a lot of us, the day in the market starts with listening to him speak."

Damani, who himself had been on Udayan's show on several occasions, said: "It was engaging to take him on.

"One respected his understanding.

"He brought a sense of history about the markets to the discussion."

While on air, Mukherjee tried to reflect the mood of the market.

His face smiled when it sprinted, wore a concerned look when it was weak and he even sounded angry when the powers that be made those so-called market-unfriendly steps.

He even took on the regulator when it clamped down on participatory notes in October 2007, the first real blow to the bull-run.

Though such extreme self-identification with the bull market, of which the famous kiss was the pinnacle, was lapped up by the market in its stride, it drew flak in newspaper editorials for breaching the ideals of journalistic neutrality.

It would also come to attract some adverse comments from a concerned regulator.

Not everyone is all praise. "I had a bad personal experience with him. So, my view would be biased," said a senior market expert, who declined to comment further.

People who worked with him also said his personality was very different from what one saw on screen.

"He was an introvert, used to switch off once he went off air," said one of Mukherjee's former colleague.

But almost everyone appreciated that it was not an easy job to be live four hours everyday and handle the huge amount of financial information such as government data, company results and stock prices.

"Udayan did it with a lot of courage and grace," Damani said.

But as competition came in and newer platforms such as the internet gained public currency, somewhere focus was getting more short term.

Market analyst Mohoni said: "Towards the end of 2007 and 2008, many of these shows became short-term oriented.

"Public wanted tips and they gave tips.

"These kind of shows have to play to the gallery. Otherwise, they don't survive."

At the end of his tenure in 2008, Securities and Exchange Board of India chief M Damodaran said without naming any individual: "When we heard the term anchor investors first, I thought anchor investor is the guy that brings in a lot of money initially into a project around whose reputation others invest.

"I am beginning to believe at the end of my three-year tenure that an anchor investor is one who is an anchor and an investor put together.

"I am worried that (they are) those who are responsible...who take the message to a billion plus people who will hopefully, one day be interested in the market. If that message gets distorted, what happens?"

Mukherjee himself seemed to have understood the responsibility he carried well.

"My job comes with a huge burden of responsibility.

"The responsibility of trust. And credibility.

In financial markets, millions can be gained and lost in a minute.

"I live in mortal fear of saying something that would result in misleading investors," he told the DNA newspaper in an interview in 2005.

"It's truly my biggest challenge to ensure we are providing a service that is totally unbiased, absolutely accurate and incisively analytical so that investors can profit from it. It's not easy. Take my word for it."

Somewhere along the way, the not-so-easy job became monotonous and repetitive.

While the company release talked about "professional exhaustion", Mukherjee told moneycontrol.com: "I have had a rewarding and enriching 15-year stint with Network18, but of late, the responsibility of running the channel had become repetitive and I had a difficult time motivating myself to continue.

"At this stage of my life, I need to devote more of my time to other personal passions and interests." Can the passion and interest be so far away from markets and broadcasting?

If only, someone can look at the screen, stiffen the lips, look up and tell, like Udayan so often did.
Image: Udayan Mukherjee; Photograph, courtesy: Business Standard