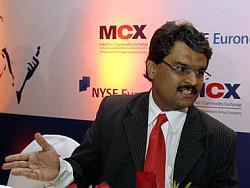 On June 30, Financial Technologies published a 25-page quarterly results presentation, giving detailed insight into the performance of the company during the first quarter of 2013-14.

This presentation showed National Spot Exchange Ltd as an associate company of FT.

An associate company is typically one in which the other company owns a significant stake but not more than 50 per cent.

By calling NSEL an associate company, this presentation created an impression that there was some stake sale by FT, adding fuel to the rumours already floating in the market; till then the position was that NSEL was a fully owned subsidiary of FT.

In a similar investor presentation made after the annual results on May 30, the company referred to NSEL as a subsidiary. Both presentations were doing the rounds in the market when the FT stock was being beaten down relentlessly after NSEL announced, on July 31, that it was suspending all contracts and deferring settlement by 15 days.

The FT stock took a beating, losing 80 per cent in two sessions before recovering. Though in an exchange announcement following the government's missive on July 12, FT identified NSEL as a material subsidiary, rumour mills contemplated two possible transactions: a sale between May 30 and June 30 which had led to the subsidiary becoming an associate and another transaction between June 30 and July 15 when the associate again became a subsidiary.

For the record, while a company with 50 per cent can be an associate, that with 51 per cent can be a subsidiary.

The resignation of independent director P G Kakodkar added to the panic. "(He) resigned from the board and its committees due to his ill health and he ceases to be a director," the company said in an exchange announcement last week.

Business Standard, after reviewing both presentations, asked FT what had happened. Prashant Desai, the latter's president, who also looks after investor relations, told Business Standard that there was no stake sale.

"It must be a typo (typing error). It has appeared by mistake. We will change it." He directed further questions to the corporate communications department.

A few minutes later, he texted that the error had been "rectified" and a fresh presentation uploaded.
Image: MCX MD Jignesh Shah; Photograph: Rediff Archives