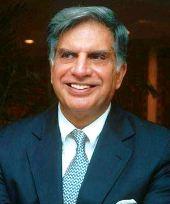 In a significant departure from the current practice, Sir Dorabji Tata Trust and Sir Ratan Tata Trust -- the two Tata trusts now chaired by Ratan Tata -- are set to get sweeping powers in constitution of the selection committee to appoint Tata Sons' chairmen.

Besides, they will get the power to appoint or remove a chairman with their own three-member quorum of the selection panel, show Tata Sons' changed articles of association filed with the government.

These trusts hold 66 per cent stake in unlisted Tata Sons, the holding company of the $100-billion Tata group of companies.

The Mistry family -- including Cyrus Mistry, the current chairman of the Tata group -- owns 18.5 per cent stake in Tata Sons and is the largest shareholder in the company after the trusts.

Under the changed articles of association, three of the five members of the selection committee will be nominated by the trusts, while Tata Sons will appoint one member and the fifth will be an independent person.

The trusts will select the committee's chairman from among the members nominated by them.

Earlier, this was done by the entire five-member
panel.
A Tata group spokesperson declined to comment on the issue.
But insiders say the decision to change the articles of association was taken for 'administrative convenience' and to lay down clear procedures for selection of the next chairman.
The quorum for a meeting of the selection committee, if necessary, will be the majority of the members nominated jointly by the trusts.
The same process will be followed for the removal of a chairman, the new articles of association say.
Cyrus Mistry had become the chairman of the Tata group in December last year when the selection committee, comprising representatives nominated by Tata Sons and the trusts, chose him after a global hunt.
Mistry was himself a member of the committee; but he was chosen by the rest of the members after they failed to find a suitable candidate. Besides Mistry, the four members of the panel were N A Soonawala, Shirin Bharucha, R K Krishna Kumar and Lord Bhattacharya of Warwick Institute.
During Mistry's appointment, Lord Bhattacharya was the independent member, while Mistry, who joined the board of Tata Sons in 2006, was representing the company.
He was the unanimous choice of the selection committee.