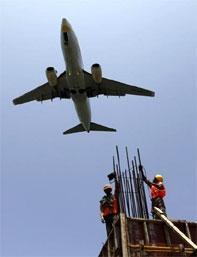 Three private carriers jointly owe about Rs 377 crore (Rs 3.77 billion) as unpaid airport and other dues to the Airports Authority of India (AAI), including Rs 172.69 crore (Rs 1.73 billion) by defunct Kingfisher Airlines alone, between April and June.
Cases have been filed in the Bombay high court against Kingfisher which has shut operations, Minister of State for Civil Aviation G M Siddeshwara said in reply to a question in the Lok Sabha.
The total amount of penal interests charged from the defaulting parties stood at about Rs 115 crore (rs 1.15 billion), he said, adding that AAI levies 12 per cent interest on delayed payments.
While Jet Airways group owed Rs 93.07 crore (Rs 931 million) between April and June, no-frill carrier SpiceJet had dues worth Rs 110.86 crore (Rs 1.1 billion) in the same period, he said.
As in March 2012, SpiceJet owed Rs 44.16 crore (Rs 441 million), Jet group Rs 140.88 crore (Rs 1.41 billion) and Kingfisher Rs 197.81 crore (Rs 1.98 billion).
In 2013, the dues were Rs 77.30 crore (Rs 773 million) for SpiceJet, Rs 102.39 crore (Rs 1.02 billion) for Jet and Kingfisher Rs 202.48 crore (Rs 2.02 billion). As of March-end, the dues amounted to Rs 132.45 crore (Rs 1.32 billion), Rs 68.07 crore (Rs 681 million) and Rs 172.69 crore (Rs 1.72 billion) respectively for the three carriers, the Minister said.
He said the AAI regularly monitored the dues, asked airlines to give security deposits and put the defaulting ones on 'cash and carry' basis.