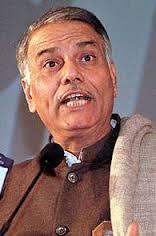 Attacking the United Progressive Alliance government, Bharatiya Janata Party leader and former Finance Minister Yashwant Sinha on Wednesday said 4.9 per cent economic growth is not because of government's policies but due to good monsoon.

"If there is 4.5 per cent growth or 4.9 per cent growth that is being accounted for, it is largely because of agriculture because we had good monsoon, I don't think any Prime Minister or any Finance Minister of India can claim credit for what Lord Indra (god of rain) does for us. . .," Sinha said.

Speaking at Federation of Karnataka Chambers of Commerce & Industry interation meet in Bengaluru, he said: "If agricultural value adds has grown. . . it is not because of your (Government) policies, because we remain stagnant as far as irrigated fields are concerned, agriculture remains neglected and backward, dependent entirely on monsoon rains."

"This year if we are saying that the economy will grow at 4.9 or even 5 per cent, it is not because of industrial activity.

"It is because of agriculture. . .," he added.

Stating that the most important thing governing the economic activity in any modern economy is sentiment, Sinha said: "if the sentiment is defected then there will be neither consumption nor investment. . ."

". . . sentiment is down once again; now that sentiment will be lifted partly if there is change in the politics of this country post election, but the sentiments can be lifted effectively if we undid some of the wrongs which have been done to the economy in the past," he added.

Blaming government for its inability in handling food inflation, he said ". . .if you have high food inflation and you don't control the circumstances for that inflation, then it is not only that food inflation will go up vertically, it will also spread horizontally to the other sectors of the economy."

"You will be forced to raise wages, your cost of production will go up- ultimately the services sector and the industrial sector will also be affected and that is exactly what has happened. . .," he added.

Stating that it is doable to control food inflation, Sinha said: "You can have a mix of supply side measures which will enable you to bring food inflation to begin with under control."

He said "first control food inflation and then look at other aspects of inflation and ensure that you create a space for the Reserve Bank of India to start reducing interest rates by 25 basis points, by 50 basis points. . . . This will have electrifying effect on investments."

Pointing out the problems and inefficiencies in the infrastructure, power, civil aviation, and foreign trade sectors, Sinha expressed his disapproval over Finance Minister rejecting arguments of policy paralysis in the country during his budget speech. ". . .by all means you (Finance Minister) are entitled to that opinion, but look at the fact that over Rs 17 lakh crore (Rs 17 trillion) worth of projects are pending with the government of India somewhere or the other. . . this is not my comment but by the senior government official," he said.

Stressing on the need for policy that will look into macro-economic and sectoral front, Sinha said: "We will have to move on a wide front, there has to be a combination of policies that will include the macroeconomic parameters, and for each sector we will have to have a special policy because general macro-economic approach may not help all sectors."

"So we should have a sectoral approach also in order to deal with special problems of each sector; . . . this combination of overall macroeconomic policy frame work coupled with sectoral policy frame work is the way forward," he added.

Stating that most important thing is to restore confidence, he said relationship with major trading partners, including the US and China need to be bettered.

He said ". . . look at your foreign trade policy in its entirety but also look at each market to find out what needs to be done in each market, so that despite global slowdown you can meet problems of that particular market."
Image: Yashwant Sinha