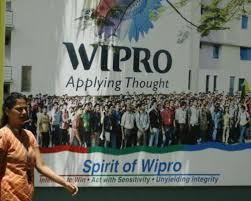 Wipro Ltd plans to double the size of its East Kilbride workforce and expand its presence in Aberdeen, creating more than 90 new jobs over time in Scotland.

These 90 new jobs are in addition to the 280 staff that Wipro already employs across Scotland.

The announcement was made by the First Minister in East Kilbride, where up to 80 new Technical IT roles will be created, backed by 475,000 pounds Regional Selective Assistance funding.

The aim is also to expand the Aberdeen Delivery centre where a number of new jobs will be created to support the Energy sector, with 12 graduates from Aberdeen University due to join Wipro over the coming weeks.

IT Consulting and Outsourcing Services are currently provided to the Energy, Utilities, Manufacturing and Public Sector markets from the East Kilbride Delivery centre.

Scotland's First Minister Alex Salmond said: "I welcome Wipro's continued commitment to Scotland.

"The investment from this world-leading Global IT Consulting & Outsourcing firm is a testament to the skills of our workforce, and illustrates the confidence major international companies have in Scotland as a country to do business with."

The expansion of the business in East Kilbride and Aberdeen shows the quality and strength of our IT Services sector in Scotland.

It is especially encouraging to see Wipro also actively engaging with Aberdeen University to create more jobs for young people and encourage the talent of the future into the Energy sector in Scotland, he said.

"The Scottish Government, Scottish Development International and Scottish Enterprise will continue to do all we can to make Scotland an attractive location for inward investment."

Wipro Head of Scottish Delivery Centres Neil Kennedy said: "Wipro is committed to Scotland and has been helping companies here do business better through innovation for over 15 years.

"With our intimate knowledge of the local market, combined with our global experience and operational excellence, we are able to help our clients achieve their desired business outcomes, while preparing for the future.

"We will continue to build on our strategic initiatives, working with the government, academia and partners to broaden our client base and extend our presence in Scotland.

"Wipro has always worked towards an optimum mix of local and off-shore delivery capabilities to provide clients with the ability and flexibility to choose what best suits their business requirements."

Country Director, Scottish Development International, India, Rooma Kumar Bussi said: "Scottish Development International has worked with Wipro for a number of years to provide an integrated package of support, including market guidance and recruitment advice, and more latterly 475,000 pounds of Regional Selective Assistance, to make this expansion happen.

"The company's decision to further develop in Scotland underlines the fact that Scotland is the preferred investment location for world class Indian companies looking to drive their international ambitions.

"Our core strengths in human capital, academia, innovation, robust industry sectors and the support we and our partners provide to help existing investors grow their Scottish operations is highly regarded and explains why foreign direct investment into Scotland is at its highest level for 15 years."
Image: A Wipro employee; Photograph: Reuters