Tata Consultancy Services (TCS), India's largest information technology (IT) services company, is set to announce its results on Thursday.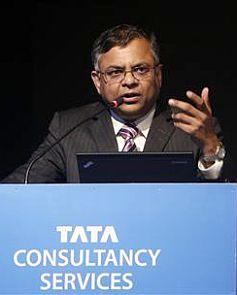 The company is likely to deliver another industry-leading performance, a seasonally weak quarter notwithstanding.

According to consensus Bloomberg estimates, TCS is likely to post revenue of Rs 21,407 crore (Rs 214.07 billion), up 2.1 per cent sequentially.

Net profit is pegged at Rs 5,124 crore (Rs 51.24 billion), a sequential rise of 10.6 per cent; earnings before interest, tax, depreciation and amortisation margin is seen flat, at 31.4 per cent.

Analysts expect TCS to post 3 per cent sequential volume growth. While the company will continue to see demand in the US and Europe, its domestic business (which accounts for seven per cent of its revenue) is likely to be under pressure due to lower IT spending.

The company's margins could be hit a tad by a rise in the value of the rupee against the dollar and higher lateral & onsite hiring. However, strong utilisation rates could provide downside support.

Analysts expect the company to post a forex gain of Rs 150-200 crore (against a loss of Rs 375 crore in the September quarter), driven by mark-to-market
gains on option contracts. This will aid other income and, consequently, net profit growth.
Apart from management commentary on demand and pricing, performance of the banking, financial services and insurance business in Europe will be keenly watched.
"We expect TCS to give a more positive outlook on FY15 demand, against FY14. Bullish commentary on FY15 demand and maintaining lead in sequential growth rates could be the key catalyst for the TCS stock's performance," says Ashwin Mehta of Nomura Equity Research.
TCS remains the top pick of most brokerages, given its consistently strong operational performance.
After a good show by Infosys, the TCS scrip too rallied to make a new 52-week high of Rs 2,384.2 on 14th January. The stock now trades at 21 times FY15 estimated earnings as compared to 15 times for Infosys.
Analysts believe this premium is likely to continue going forward. "TCS will continue to trade at a premium to Infosys as long as it delivers faster EBIT growth", says Anantha Narayan, IT analyst at Credit Suisse.