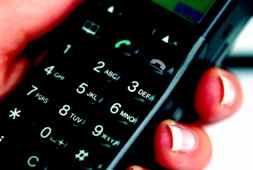 Tata Teleservices, which has Rs 26,000 crore (Rs 260 billion) of debt on its books, is looking at the option of asking its promoters -- Tata Sons and Docomo -- to inject more funds into the company as it gears up to bid in the spectrum auction slated for early next year.

Managing Director N Srinath said the company would need substantial funds to bid for spectrum, including in the Delhi circle, as the company moves away from services based on the CDMA technology to the GSM one.

"We are not concerned about raising money for spectrum, as lenders have assured us of support.

"We would also have the promoters' backing," he said.

The fund requirement would be huge as the company will try to get spectrum in key markets like Delhi.

"Though our company is not present in Delhi and many other areas, we are still the country's number-four player in terms of revenue," Srinath added.

Spectrum is critical for Tata Tele because in some circles, Rajasthan for example, it has spectrum only in 60 per cent of the geography, while allocation for the rest has yet to come from the government.

Though the company has been Ebitda positive for the past two quarters, its net worth completely eroded in FY13, for the first time, to a negative Rs 1,863 crore (Rs 18.63 billion), compared with Rs 2,996 crore (Rs 29.96 billion) the previous year.

But Srinath said the performance in the past few quarters showed the company was on a turnaround path because of a carefully-thought-out strategy that entailed cutting costs, redeploying assets from low-growth areas to high-growth ones and focusing on generating higher revenues from data services.

Tata Tele is also venturing into new areas like home surveillance, smart tracking solutions and other machine-to-machine services.

M-commerce is another such area; the firm has already started money remittance service in 12
cities.
The company's sagging financials mirror the conditions of the Indian wireless telephony industry, where most operators are struggling to make money due to lack of clear guidelines and very expensive spectrum fees charged by the government.
Fund raising has also become a challenge for Indian telecom companies, as banks, which have a combined exposure of Rs 200,000 crore (Rs 2,000 billion) to the sector, are now reluctant to lend more.
Besides, lenders are struggling to get their money back from the 2G scam-hit companies that shut shop after a 2012 Supreme Court judgment cancelling 122 telecom licences.
Before participating in the auction, according to Srinath, it's important to get a clarity on the merger & acquisition guidelines that would help the company finalise partners and decide on bids.
The group was in talks with Norway's Telenor and Aircel for a possible merger but Srinath did not reveal much on merger plans.
"Let's first wait for the guidelines; we will talk about it then," he said. He added a consolidation in the telecom industry "has to happen", as days were over for more than four players.
"We are ready to buy (a company) as well as sell (our shares), provided the price is right," the MD said.
On Docomo's possible exit by March 2014, Srinath said the Japanese firm would take a call only after numbers for this financial year were in.
Docomo has the option to sell its 26 per cent shares in the company back to the Tatas at the fair market value, or 50 per cent of the Rs 13,000 crore it paid in 2008 -- whichever is higher.
The Japanese firm last year had the option of raising its stake to 33 per cent but chose to play safe, standing still at 26 per cent.
Tata holds around 59 per cent.
Asked whether the bad days for Tata Teleservices were over now, Srinath said: "We can just hope that the worst is behind us."