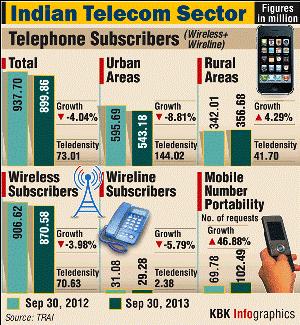 The Telecom Commission on Wednesday recommended raising reserve price for auction of pan-India mobile phone spectrum which is 15 per cent more than the one suggested by Trai, and 25 per cent higher in case of key circles like Delhi and Mumbai.

TC at its meeting here recommended to an Empowered Group of Ministers that reserve price for pan-India 1800 MHz spectrum be fixed 15 per cent higher than Trai suggested rates.

The same for 900 MHz be fixed 25 per cent higher than what the Trai had recommended.

The rates recommended by TC will still be lower than the previous auction price.

Sources said the Telecom Commission has also approved the merger and acquisition policy, allowing mergers with a combined market share of up to 50 per cent.

This would replace the cap of 35 per cent market share of the combined entity currently in vogue.

The new base price per mega hertz in 1800 band for Delhi has been suggested at Rs 218.90 crore (Rs 2.18 billion), Mumbai Rs 206.74 crore (2.06 billion) and Kolkata Rs 73.13 crore (Rs 731.3 million), which is 25
per cent higher than the base price recommended by Trai.
The regulator had recommended Rs 175.12 crore (Rs 1.75 billion) for Delhi, Rs 165.39 crore (Rs 1.65 billion) for Mumbai and Rs 58.50 crore (Rs 585 million) for Kolkata as the reserve price.
Similarly for 900 Mhz spectrum, the base price per MHz will be Rs 359.65 crore (Rs 3.59 billion) for Delhi, Rs 327.50 crore (Rs 3.27 billion) for Mumbai and Rs 125.27 crore (Rs 1.25 billion) for Kolkata.
Telecom Regulatory Authority of India had recommended Rs 287.72 crore (Rs 2.87 billion) for Delhi, Rs 262 crore (Rs 2.62 billion) for Mumbai and Rs 100.22 crore (Rs 1 billion) for Kolkata as the per Mhz price in 900 band.
The Telecom Commission, the highest decision making body of department of telecommunication decided that the value of spectrum be set as the reserve price for the three metro and five category A circles.
It, however, approved the base price set by Trai for the remaining 14 circles.
As a result, the base price will increase by about 25 per cent in the eight circles and the pan-India price will be up by 15 per cent.