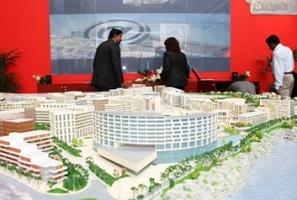 The board of directors of SmartCity Kochi on Friday granted approval for the revised master plan for the IT project at a meeting held in Kochi.

In order to complete in time the project, an initiative of the Kerala government and Dubai Holding, the board also granted special powers to the executive members and strengthened the executive team.

"We aim to complete the first building by December 2014.

Rs 360 crore (Rs 3.6 billion) has been earmarked for infrastructural development," Kerala Chief Minister Oommen Chandy told reporters after the meeting.

Chandy also expressed his satisfaction over the progress of the project.

A digital master plan which will act as a blueprint of the digital network system coordinating various operations to guarantee state-of-the art automated buildings and IT campus for the project will be prepared by TECOM, the promoters of Smart
City.
The director board also empowered the executive committee of Smart City for spending up to Rs 15 crore (Rs 150 million), he said. The land development had been completed and the piling work would begin in a week. On completion, the first phase of the project will offer more than 7,000 direct jobs and 1,400 indirect jobs,he said.
The 246-acre project area at Kakkanad has been divided into three phases and the first IT building will be built in the 40-acre campus, which comes in the first phase.
Out of this, only 10-acre will be exclusively used for construction works.
The Platinum Rating LEED Certification building will be completely eco-friendly.
The four-storey 650,000 square feet building is designed by Toronto-based B+H Architects.
The meeting was also attended by the state Industries and IT Minister P K Kunjalikutty, who is also the chairman of SmartCity Kochi, Excise and Ports minister K Babu, Abdullatif Almulla, CEO of SmartCity Dubai and Chief Business Development Officer at Dubai Holding.