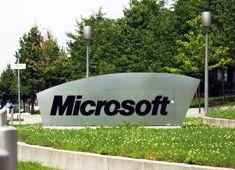 For those accessing company data on personal devices, laptops, tablets and mobile phones, Microsoft's [ Images ] newly launched Windows Server 2012, which powers the cloud operating system, will make the job easier by removing all the security obstacles.

"While some large enterprises restrict personal devices into in-house server due to security issues, by choosing the Windows Server 2012, consumers can remove all these hurdles through technologies like  virtual desktop infrastructure and remote connectivity of these tablets without getting into the security part of the enterprises," Srikanth Karnakota, director (server and cloud business), Microsoft Corporation (India [ Images ]), a subsidiary of global giant Microsoft Corporation.

The IT sector is becoming more people-centric and therefore, the new OS tries to integrate Cloud-based technologies within the network without compromising on security.

"The Windows Server 2012 will be a great boon for the large enterprises who focusing on keeping people-centric IT, which  enables people to bring their own devices and work from the and not putting any bottlenecks and challenges.

"The consumers will be enabled to access enterprise applications through the server technology that is required, not on the client," he added.

The Windows Server 2012, built in combination with Windows Azure and System Center, empowers customers to manage and deliver applications and services across private, hosted and public clouds.

It keeps the apps and data secured regardless of the end device with its security protocol and maximises the utility of Cloud computing and improves virtual environment on the OS for end user data and for the entire server farm.

"Cloud OS will become a central hub, where you can run these applications," he said.

"It incorporates advanced storage, networking, virtualisation and automation capabilities and enables users to access data and applications anywhere on any device with simplified management, security and control," he added.

According to Microsoft, many enterprise customers are already seeing tremendous value in early deployments.

A survey of 70 early adopter customers globally revealed that they expect 52 per cent reduction in downtime, 41 per cent reduction in workload deployment time, and 15 hours of productivity time saved per year, per employee.

"The Cloud OS will also be a boon for Microsoft's 4,000 independent software providers in India," he added.