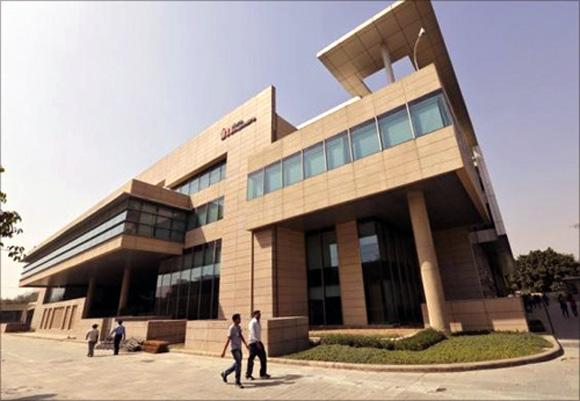 IT services firm Tech Mahindra on Thursday posted a 57.6 per cent growth in consolidated net profit at Rs 718.4 crore (Rs 7.18 billion) for the second quarter ended September 30, aided by growth across verticals especially retail, travel and logistics and uptick in demand from Europe.
The company had posted a net profit of Rs 455.8 crore (Rs 4.55 billion) in the July-September quarter of 2012-13 fiscal, it said in a statement.
Consolidated revenues of India's fifth largest software services exporter grew 35.4 per cent at Rs 4,771.5 crore (Rs 47.71 billion) in the second quarter this fiscal from Rs 4,103.2 crore (Rs 41.03 billion) in the year-ago period, it added.
The company said it has not obtained the audit opinion on the merged entity's consolidated financials for Q2 2012-13 fiscal.
In June this year, Tech Mahindra had announced completion of Mahindra Satyam's merger with itself to a firm with a turnover of $2.7 billion.
On a quarter-on-quarter basis, Tech Mahindra's net profit rose 4.7 per cent, while revenues were up 16.3 per cent.
Commenting on the earnings, Tech Mahindra Executive Vice Chairman Vineet Nayyar said: "I am confident of our alignment with the needs of next generation consumers, with industry best practices and core strengths that our solutions bring."
The Digital World is the next phase of the company's growth and Tech Mahindra is ready to ride that wave, he added.
In US dollars, the company posted revenues of $758 million (up 17.6 per cent y-o-y and 4.7 per cent q-o-q), while net profit stood at $114 million, up 36.4 per cent y-o-y.
The firm's q-o-q revenues growth of 4.7 per cent is in line with industry expectations as well as with its peers.
During the July-September quarter, TCS saw dollar revenue rising 5.4 per cent sequentially, while that of Infosys, HCL Technologies and Wipro grew by 3.8 per cent, 3.5 per cent and 2.7 per cent, respectively.
"The winning trio for us this quarter -- growth across verticals, regions and practices -- reflects Tech Mahindra's new found energy and alignment to win large deals, as well as participate with customers in their transformation journey," Tech Mahindra Managing Director and CEO C P Gurnani said.
Tech Mahindra's judicious investments in building connected solutions and relentless focus on enhancing customer experience is showing results, he added.
The firm's total headcount stood at 85,234 with software professionals at 55,432, BPO at 23,225 and sales & support at 6,577 for the period under review.
Tech Mahindra reduced its debt by Rs 412 crore (Rs 4.12 billion) to Rs 335 crore (Rs 3.35 billion) as of September 30, while cash and cash equivalents stood at Rs 3,273 crore for the same period.
Tech Mahindra's active clients stood at 576 in Q2 2013-14 fiscal against 567 in the April-June of the same fiscal. It added nine clients during the quarter, including one client of $20 million and 2 clients of 10 million each.
On the macroeconomic view, Nayyar said that there has been a relief with the fiscal crisis being resolved in the US and a resurgence of confidence in Europe, which has started to better.
"The companies in Europe are looking for cheap and cost effective services, something which the India IT firms are known for. Besides, rest of the world is growing, especially there is good potential in Australia and Africa," he added.
On the verticals, Gurnani said: "Retail, travel and logistics have done extremely well. We got two large deals, one from Volvo and other from a company in the US."
Revenues from Europe grew 6.8 per cent during the second quarter this fiscal, while the US and rest of world rose 1.5 per cent each, quarter-on-quarter, he said.
Media and entertainment technology segment saw 3.8 per cent growth, whereas, BFSI segment witnessed 5.5 per cent and telecom 2.7 per cent sequential growth, Gurnani said.
Tech Mahindra reported consolidated forex loss of Rs 26 crore (Rs 260 million) during the second quarter against a gain of Rs 134 crore (Rs 1.34 billion) in first quarter.