A silent revolution is happening in the information technology segment globally, and this is expected to take a concrete shape in 2014.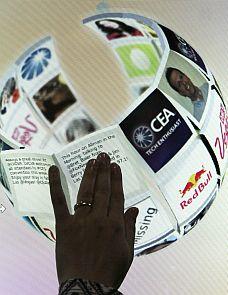 With the world getting more and more instrumented with smart devices, global enterprises are increasingly looking at undertaking a 'digital transformation' journey to stay ahead in the race.

Emerging technologies such as social, mobility, analytics and cloud have given birth to new business opportunities and forcing enterprises to finetune their IT buying decisions -- quite differently from what they used to do.

"We call it the third revolution for the industry.

"Because we have got data to prove that in the last two revolutions, almost 56 per cent of the listed companies got wiped out because they did not adapt to the new emerging technologies.

"In the third revolution, those who will not adopt the digital part of it, probably may be left out in the race," said Kishore Chitale, CEO, Local Business Services, Capgemini India.

The culmination of devices (mobility), cloud (internet), data and analytics is giving birth to different types of business opportunities.

Take the example of a project that is currently being implemented in Europe.

IBM, the US-based technology major, is working with a consortium of banks and a telecom company to capture 'moments of happiness' in people's lives.

It is because this is the period when the chances of people accepting to new sale offers, discounts typically tend to be higher.

"The banks have the background information about the clients, such as their dates of birth and marriage anniversaries, etc.

"The telecom service provider can identify these moments of happiness through a person's geographic location with the help of global positioning systems.

"Suppose it is a person's birthday and the geographic location tells that he is walking into a mall.

"If the person gets a discount offer at that moment, he would be more open to spend then, as compared to a time when he is under tremendous work-pressure in office," said Suhash Bhide, general manager of Global
Delivery for IBM India.
"Earlier, 'run' and 'change' were the two things that the CIOs juggled within their IT budget.
"Today, it is not just about IT, but technology as we referred to in a broader sense which is increasingly becoming a disruptive force, and that is going to trigger the change," said Bhide.
While devices and data are the triggers for the new wave of technology outsourcing demands, going forward data mining and analytics are going to play a huge role in the overall digital transformation journey of enterprises.
"Today, the world is focusing on descriptive analytics which is basically about understanding of data. Increasingly, organisations are expected to use data for predictive analytics, and ultimately for prescriptive analytics to determine their future course of action," added Bhide.
The new opportunities also come with their own sets of challenges, especially for the IT services providers.
Those are expected to disrupt the traditional ways of doing IT services business, since the vendors are expected to engage with the clients in every stage of their digital transformation journey.
It would also require the vendors to vie for partnerships with various other services providers, starting from equipment makers to telecom service providers.
Traditionally, global corporations were sourcing technology services from offshore locations like India to leverage the cost advantage it offers.
Over the years, the IT services industry in India has been growing, banking on the ability of the clients to spend on maintaining their existing IT applications and building newer ones to address their specific needs.
"IT is becoming more strategic now, even in spite of the downturn, and it will play out more strongly in 2014 with the rise of digital world driven by technologies such as cloud, social, mobile and data – what Gartner terms as nexus of forces," said Partha Iyenger, VP, distinguished analyst and India head at research and analyst firm Gartner.
TRIGGERS FOR TECH REVOLUTION
World is getting instrumented with newer smart devices
Devices getting interconnected and generating data
Churning data using analytics making customers intelligent, productive