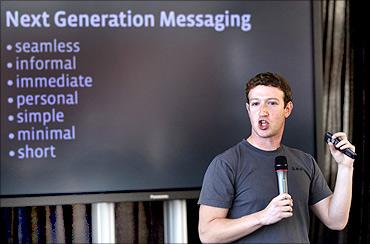 Facebook has surpassed Google for the first time as the most visited site in the United States for the year 2010, according to a study.
The social networking site was the most visited, with 8.9 per cent of all the US visits between January and November 2010, according to Experian Hitwise, an online measurement service provider.
Facebook, which connects over 400 million people globally, moved to the top slot within a span of six years.
Google.com ranked second with about 7.2 per cent of all visits, followed by Yahoo! Mail (3.52 per cent), Yahoo! (3.30 per cent) and YouTube (2.65 per cent).
For the two consecutive years 2009 and 2008, Google.com dominated the most visited website space in the US, while News Corp's MySpace, which was at the top slot in 2007, is currently ranked at No.7.
Interestingly, if we combine all Google's properties like YouTube and email together, Google becomes the most visited site with 9.9 per cent of all the US visits between January and November 2010.
Facebook follows at 8.9 per cent and Yahoo! and all of its properties ranked third at 8.1 per cent.
Others in the top list are -- MSN (sixth), Myspace (seventh), Mail Live (eighth), Yahoo! Search (ninth), Bing (10th).
Besides, the top 10 websites accounted for 33 per cent of all US visits between January and November 2010, an increase of 12 per cent versus 2009.
Meanwhile, Experian Hitwise said that Facebook was the top-searched term overall.
Image:  Facebook CEO Mark Zuckerberg unveils a new messaging system in in San Francisco.
Photograph: Reuters