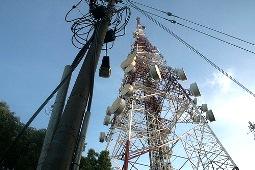 State-run telecom firms Bharat Sanchar Nigam Limited and Mahanagar Telephone Nigam Limited said on Tuesday that they are working jointly to offer free roaming service to all their customers.

"In the NCR (National Capital Region), leaving Delhi, where BSNL customers is on roaming, he is not charged for roaming.

"We would like to enlarge that area individually on pan-India basis so that mobile customer does not pay any fees for roaming," BSNL chairman and managing director R K Upadhyay said.

He was speaking to reporters after signing an agreement with MTNL for joint service offering to corporate customers.

He added that both are working on mechanisms to reduce charges levied on customers when they are on roaming and to gradually waive it.

At present MTNL and BSNL do not impose roaming charges for mobile internet services on each others customers.

MTNL CMD A K Garg said that both companies will work to have similar arrangement for phone calls as well.

"We have made certain packages in pre-paid where it (roaming) is allowed on payment of small amount but yes once this synergy are there we will work out to have similar situation for voice also," Garg said in reply to a query.

Under the agreement signed today both the state-run firms have agreed
to share their IT and other infrastructure required to jointly serve enterprise customers.
"This is first step in their synergy. They have to swim together. Together they make a very formidable combination," Telecom Secretary MF Farooqui said.
The infrastructure to be shared include buildings, ducts, mobile towers, International long distance and other facilities required for serving corporate clients.
"The Idea is to let customers feel both networks as single network and need not bother for anything," Upadhyay said.
BSNL expects to increase its revenue from enterprise segment by 15 to 20 per cent following this agreement.
"Most of the enterprise customers are headquartered in Delhi and Mumbai.
"We expect to garner more than Rs 2,000 crore or Rs 20 billion (this fiscal) from enterprise segment after this agreement with MTNL," Upadhyay said.
Both BSNL and MTNL do not demarcate their revenue from enterprise business but BSNL estimates its revenue through this channel at around Rs 1,700 crore (Rs 17 billion) in the last fiscal.
Garg said "We expect to generate additional Rs 100 crore (Rs 1 billion) revenue from enterprise business."
The agreement between the two does not include joint tendering process and may continue to rope in separate vendors for sourcing solutions.
MTNL CMD said that for some sourcing of products and solution they will take help from BSNL.