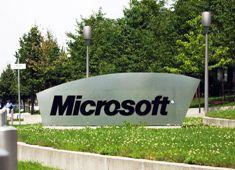 Assam government has signed a memorandum of understanding with Microsoft [ Images ] Corporation India [ Images ] Limited to expedite Information and Communications Technology adoption in schools.

The year-long alliance will support Assam's School Education System to use ICT towards improving the quality of learning in schools by recreating more interactive classroom experiences, official sources said in Guwahati on Thursday.

The agreement was signed by 'Assam Sarba Siksha Abhijan' Mission Director L S Changsan for state government and Ranbir Singh, Country Head, government Engagements, Microsoft Corporation India (Pvt) Ltd, in presence of state Education and Health Minister Himanta Biswa Sarma on Wednesday night.

The agreement will focus on professional development for 5,760 school teachers in the state and equip them with skills required for integrating IT in classroom teaching to trigger better learning outcomes for the students under Microsoft's Partners in Learning programme through training sessions held at six state-run DIETS (District Institute for Education and Training).

PiL, introduced in 2008, is a global Microsoft programme that helps in providing teachers with tools aimed at enhancing their IT skills and the integration of ICT intoteaching and learning in a meaningful way.