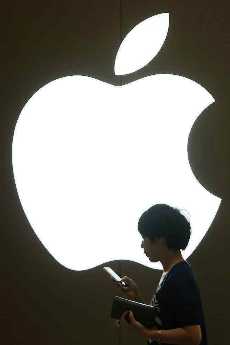 Technology giant Apple has disclosed that it has received 27 device requests, which are mostly related to seeking information about lost or stolen handsets, from Indian law enforcement agencies in the first six months of this year.

The total number of such requests from global law enforcement agencies is over 12,400, Apple said in a report.

Though New Delhi did not seek information about any Apple account during the specified period, as many as 27 requests were made seeking information on 65 Apple devices, the company said, adding it complied with 11 of those requests.

The company has also received over 2,000 requests for user-data from various governments, it said.

While Google is publishing transparency reports for many years now, more companies like Microsoft, Twitter, Facebook and Yahoo have also joined the bandwagon.

"Unlike many other companies dealing with requests for customer data from government agencies, Apple's main business is not about collecting information.

As a result, the vast majority of the requests we receive from law enforcement seek information about lost or stolen devices, and are logged as device requests," Apple said.

Account-based requests generally involve account holders' personal data and their use of an online service in which they have an expectation of privacy, such as government requests for customer identifying information, email, stored photographs, or other user content stored online. Apple logs these as account requests, it said.

However, Apple said it could not provide the precise figure because of the US government' gag orders.

Apple could not specify the exact number of requests due to the US government gag order that come attached with the law enforcement letters seeking information, the company said.

"At the time of this report, the US government does not allow Apple to disclose, except in broad ranges, the number of national security orders, the number of accounts affected by the orders, or whether content, such as emails, was disclosed.

The company further said it has filed an amicus brief at the foreign intelligence surveillance court (FISA court) in support of a group of cases requesting greater transparency.

"Later this year, we will file a second amicus brief at the ninth circuit in support of a case seeking greater transparency with respect to national security letters.

"We feel strongly that the US government should lift the gag order and permit companies to disclose the complete and accurate numbers regarding FISA requests and national security letters," it added.

However, it admitted that despite its extensive efforts in this area, it does not yet have an agreement that the company feels adequately addresses its customers' right to know how often and under what circumstances it provides data to law enforcement agencies.

Apple also said it believes that dialogue and advocacy are the most productive way to bring about a change in these policies, rather than filing a lawsuit against the US government.

The most common account requests involve robberies and other crimes or requests from law enforcement officers searching for missing persons or children, finding a kidnapping victim, or hoping to prevent a suicide, Apple said.

"We have no interest in amassing personal information about our customers. We protect personal conversations by providing end-to-end encryption over iMessage and FaceTime.

"We do not store location data, maps searches, or Siri requests in any identifiable form," the company said.

Responding to an account request usually involves providing information about an account holder's iTunes or iCloud account, such as a name and an address.

In very rare cases, we are asked to provide stored photos or email, it said.
Image: A woman looks at the screen of her mobile phone in front of an Apple logo outside its store in downtown Shanghai, China; Photograph: Aly Song/Reuters