On Friday, the stock was the worst hit among the 30 blue-chips on the Sensex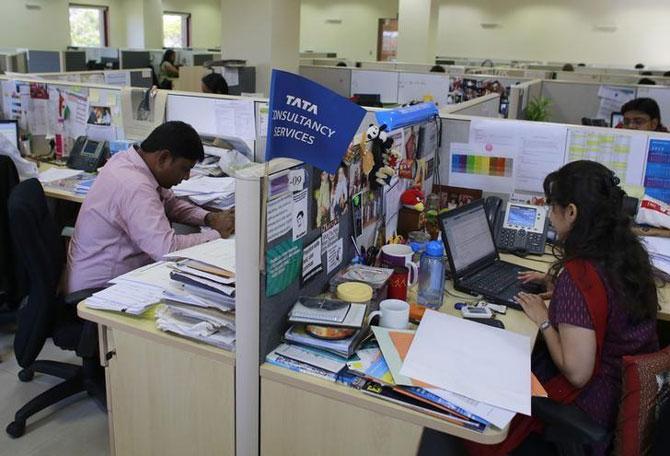 Tata Consultancy Services ended 4 per cent lower, eroding Rs 17,989 crore from its market valuation, after it flagged issues surrounding H1-B visas in the US as a key headwind and concerns over its future after chief N Chandrasekaran was elevated as chairman of Tata Sons.
The blue-chip stock fell 3.90 per cent to end at Rs 2,252 on BSE. During the day, it declined 4.34 per cent to Rs 2,241.50.
At NSE, it declined by 4 per cent to close at Rs 2,249.30.
Following the drop in the stock price, the company's market valuation plunged Rs 17,989.63 crore to Rs 443,740.37 crore.
On the volume front, 4.57 lakh shares of the company were traded on BSE and more than 51 lakh changed hands at NSE during the day.
The stock was the worst hit among the 30 blue-chips on the Sensex.
"While TCS posted in-line growth and margin, we remain concerned as growth was driven by volatile markets, which entail the potential of springing a negative surprise, going forward," Edelweiss Securities said in a note.
"We believe that Chandra's (Chandrasekaran) departure from TCS would be a negative. Chandra has led in transformation of the company into a growth and margin leader in the sector," brokerage Prabhudas Lilladher said in a note.
TCS, the largest software exporter, reported a street-beating 10.9 per cent rise in December quarter net profit at Rs 6,778 crore, helped by growth in digital and traditional financial sectors, but flagged issues surrounding the H1-B visas in the US as a key challenge.
The Tata group's crown jewel had reported a net profit of Rs 6,110 crore under the Ind-AS accounting system for the same period last fiscal.
Revenue rose to Rs 29,735 crore, up 8.7 per cent over the year-ago period and 1.5 per cent from the preceding September quarter. The net profit growth is up 2.9 per cent on a sequential basis.
The results came on Thursday when its chief N Chandrasekaran was made chairman of the group holding company Tata Sons. He will be succeeded by Rajesh Gopinathan as TCS CEO.