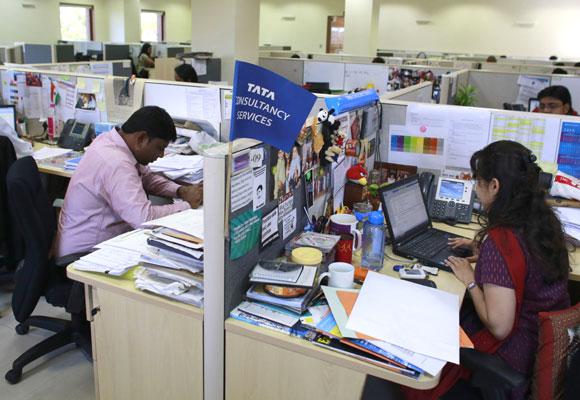 India's largest information technology services provider, Tata Consultancy Services (TCS), said it continued to rely on H1-B visa for its employees as the rejection rate in the L1 category remained high.
TCS had filed for 11,700 H1-B visas this year and has received approval for 5,700 so far. "We have not been yet told the rejection numbers, so I think we may get a few more approved. Last year, too, we had received approval for 5,800-6,000 visas.
Rejection in the L1 category is still high," said Ajoy Mukherjee, global head of human resources at TCS. Last year, TCS had applied for 9,000 H1-B visas.
According to a statement issued by the US Citizenship and Immigration Services (USCIS), it received 1,72,500 petitions for H1-B visas during the filing period that started on April 1.
The US has a cap of 65,000 H1-B visas a year in the general category and 20,000 for the advanced degree exemption.
The number of applications filed for H-1B visa this year was around 40 per cent higher than a year ago.
"Our attrition is a tad higher, but that is a factor of how the market is behaving. Usually at this time we see higher attrition as employees choose to leave for higher studies. But the other side of this is the joining ratios are higher," added Mukherjee.
The joining ratio at TCS has been 70-72 per cent.
TCS had said it would hire 55,000 employees this financial year and had already offered jobs to 25,000 students.
Asked if the company would see increased hiring as demand improved, Mukherjee said: "We have been the largest recruiter so far on campus. We did pool a few campuses together to hire students. If we need to hire more it will be done off-campus."
Managing employees is key for TCS to maintain its margins in the band of 26-28 per cent.
The company had a headcount of 305,431 on June 30.
Despite a wage hike of 10 per cent, the impact of a rising rupee appreciation and a one-time effect of depreciation, TCS managed to a margin of 26.3 per cent during the previous quarter, higher than what the street was expecting.
"There were two important aspects that allowed us to manage margins.
One was utilisation and, two, the top line growth in the US. Utilisation is key to maintaining margins but growth is a bigger factor," said Rajesh Gopinathan, CFO of TCS. For the quarter, TCS utilisation was 85.3 per cent, the highest ever.
One other aspect that Gopinathan is observing closely is employee cost, which has touched 56 per cent. "It has been inching upwards. It is not in terms of just salary.
Employee cost as a percentage of revenue is a play of utilisation and growth.
Attrition also impacts the cost. Hence we need to balance attrition and growth.
If attrition stays high utilisation will be impacted. But if demand is predictable and attrition is predictable, utilisation can be managed," said Gopinathan.