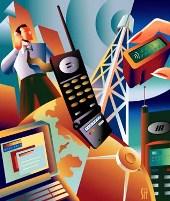 The GSM industry body Cellular Operators Association of India is planning to approach the Department of Telecommunications in the next few days, asking it to cancel 19 licences awarded to Tata Teleservices Ltd five years ago.

COAI contends these licences, awarded to TTSL in January 2008, stand cancelled, according to the Supreme Court's February 2012 order.

DoT had cancelled 122 licences, following the apex court order.

"We are planning to write to DoT in the next few days (to cancel Tata Teleservices' GSM licences)," Director-General Rajan Mathews said.

The body said it had sought the opinion of former solicitor-general Rohinton Nariman on the matter.

He endorsed the view that the spectrum allocated to TTSL was quashed by the Supreme Court's order, COAI
said.
Telecom spectrum was bundled with licences earlier.
Despite repeated attempts, TTSL spokesperson refused to comment on the matter.
COAI said airwaves to TTSL were allocated following two press releases issued by DoT on January 10, 2008.
The Supreme Court cancelled allocation of spectrum through these press releases and other subsequent allocation.
The industry body has maintained that 141 licences need to be cancelled, including 19 GSM licences of TTSL, as the apex court had ordered cancellation of all licences issued in 2008 by the then telecom minister A Raja.
TTSL is present in both CDMA and GSM space.
It shut its operations in Jammu & Kashmir, the Northeast and Assam circles from January 18, as it did not have spectrum to operate in these areas.
The three CDMA licences of TTSL in these circles were cancelled by the Supreme Court in its February 2012 order.