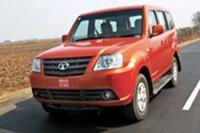 Tata Motors, along with its partner Al-Hamad Automobiles, on Wednesday launched three heavy trucks of its Prima range in the Qatar market.
"Having been extensively tested to confirm with standards of the Gulf region in terms of power, durability, payload, emissions and safety, these trucks from Tata Motors will continue to offer advantage of lowest total cost of ownership to customers," the company said in a statement.
Conceived in 2008, the Prima range has been built with technical inputs from across the world.
"The launch of the Tata Prima brand in Qatar, is an important milestone in Tata Motors' continued expansion in the Qatar market and the GCC region," Tata Motors Executive Director, Commercial Vehicles Business Unit, Ravindra Pisharody said.
He added that the company cherishes its partnership with Al-Hamad Automobiles, a company with proven strengths and experience in the commercial vehicle market of Qatar.
"Al-Hamad has been our partner for almost 15 years now and though this partnership we are geared up to deliver a blend of high quality and unique value to the Qatari customer," Pisharody said.
Tata Motors had launched the Prima range of trucks in India in 2009. In March this year, the company further rolled out a new range Prima LX in the country, which is around 20 per cent cheaper than the Prima range of trucks.
Tata Motors is India's largest automobile company, with consolidated revenues of Rs 1,65,654 crore (Rs 1.65 trillion)