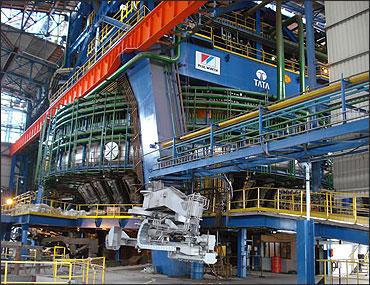 The Tata group, one of Britain's largest employers in the manufacturing sector, has warned the government here over its commercial tax rates system, saying it is making Britain less attractive for the industry.
Joining hands with American automotive giant, General Motors, the Indian multinational conglomerate regretted that business rates are five to 10 times higher in Britain than equivalent taxes in the rest of Europe.
The two companies are particularly opposed to the fact that plant and machinery fall within the levy while other kinds of equipment like information technology hardware do not.
"Large-scale manufacturers constantly need to invest in upgrading their machinery. But these improvements are taken into account in revaluations, leading to higher business rates," Andy Pickford, Tata Steel's director of property, told The Sunday Times.
"A change for the better would be to do away with this disincentive to invest by removing manufacturing plant and machinery from rates assessments," Pickford said.
Last month, Tata Steel cut 400 jobs at its factory in Port Talbot in south Wales - a move it partly attributed to business rates, as well as high energy prices and environmental costs.
The company lost around £16 million in Europe the year until March, against a loss of £283 million in the previous year. Business rates contribute around £22 billion to the UK Treasury every year.
However, Chancellor George Osborne had raised hopes of a review in last year's autumn statement. But there are fears that any reform could be reduced to tweaking because the tax is so lucrative.