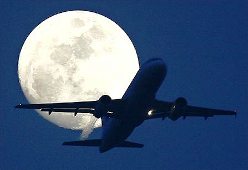 Aviation regulator DGCA would set up an environment task force to monitor and check carbon emissions by aircraft operating in the country and ask all Indian carriers to set up similar cells of their own.

The decision of the Directorate General of Civil Aviation comes at a time when the UN-body International Civil Aviation Organisation is working on global market-based measures to check aviation emissions.

India, along with Russia, China, the US and several other nations, has been strongly opposing European Union's Emissions Trading System on the grounds that it unilaterally imposes hefty taxes on all air operations across the European skies, violating international rules.

The countries want the ICAO to evolve global rules on the issue.

In a latest circular, DGCA has decided to establish an Aviation Climate Change Task Force with stakeholders to assess trends in carbon emissions, facilitate data collection and analysis and formulate new initiatives to curb emissions in the skies and on the ground (at airports).

It has also asked all scheduled airlines and airport operators, with more than 50,000 movements per year, to set up Aviation Environment Cells within their organisations, headed by a person having knowledge of aviation environment matters.

The decision would make all airlines set up cells to keep tab on their carbon emissions and take voluntary measures to reduce them, thereby making the carriers accountable on the issue, official sources said.

It would become mandatory for these carriers to furnish these data
on fuel consumption by their aircraft and emissions on a regular basis to the DGCA, they said.
While major airports have been collecting emission data regularly and submitting it to DGCA, sources said the purpose was to evolve a comprehensive approach to address aviation- related climate change challenges and ensure that all organisations concerned establish necessary structures to effectively address environmental issues.
The effort would be to encourage airlines and airport operators to develop carbon footprint data, including on power consumption, on an annual basis and prepare a multi-pronged strategy to comply with relevant regulations and policies.
Global aviation's contribution to emission of greenhouse gases is relatively small, to the extent of 2-3 per cent, but experts feel this share is likely to grow rapidly as the industry expands.
To counter the EU-ETS, India had earlier threatened to review the benefits it provides to European airlines, mounting its opposition to the EU move to impose carbon tax on Indian carriers operating through Europe.
The tax, which is being opposed by several nations including US, China, Brazil, Russia, Japan and India, has been effected from this January by the EU to cover carbon di-oxide emission by all flights operating in the European skies.
"Efforts are going on to resolve the issue. . .but if they do not exempt India from this, we may review our horizontal agreements with them and put such restrictions on European airlines," a sources said on the proposed retaliatory measure.
The move has not gone down well with the aviation industry also, with the global airlines body International Air Transport Association strongly opposing it.