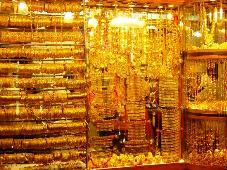 The government on Tuesday increased the tariff value of gold to $521 per 10 grams, making import of the precious metal in any form costlier.

However, the tariff value for silver has been lowered to $920 per kg, according to a notification released by the Central Board of Excise and Customs on Tuesday.

During March, the tariff value -- the base price on which the customs duty is determined to prevent under -- invoicing and released every fortnight -- for gold stood at $516 per 10 grams and for silver at $930
a kg.
Besides, the government has reduced import tariff value of RBD palmolein $863/tonne from $874/tonne.
The government hiked import tariff value of precious metals following firm price trend in the global market.
At present, gold prices are ruling down at $1,597.90 per ounce in Singapore, while silver at $27.92 per ounce.
Gold price was quoted at Rs 30,100, while silver at Rs 53,200 per kg in Delhi on Tuesday.