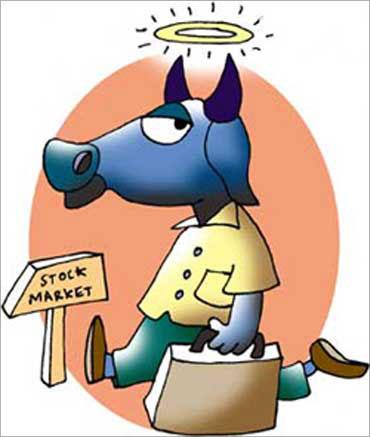 Tracking the strong momentum in the broader market, as many as 99 stocks touched their one-year high level on the BSE on Monday.
Among the stocks that touched their 52 week high were Axis Bank, Biocon, JSW Steel and Larsen & Toubro.
However, 105 scrips hit their respective one-year low level on the exchange. These include stocks like Videocon Industries and Amar Remedies.
"Sensex hit a new record with 4 month high with the BJP win. With BJP winning in three big states, the investors see India as a great marketplace to invest. BJP being called a more business friendly government, leaves a great impression on Sensex after the first day opening post results," said Praveen Nigam, MD, Amplus consulting.
Meanwhile, the BSE Sensex ended at a closing high of 21,326.42, a gain of 329.89 points or 1.57 per cent, as the BJP swept three out of 4 state polls and boosted hopes that a new government in 2014 general elections would be more business-friendly.
The Sensex rose to a lifetime high of 21,483.74 points, before paring some gains to settle at an all-time closing high of 21,326.42. Among the 30-Sensex stocks, 26 ended the day in green led by ICICI Bank that rose by 5.16 per cent.
Out of the 13 BSE sectoral indices, 12 made gains where bankex and capital goods stocks were the best performers.
Besdies, following the buoyant market mood, the total investor wealth soared by about Rs 75,000 crore (Rs 750 billion) to Rs 68,44,558 crore.