Karnataka High Court on December 20 annulled United Spirits stake sale to Diageo. Vijay Mallya & Diageo said they would go to Supreme Court. Diageo Plc, whose stake in United Spirits, is now reduced to below 20 per cent, following the high court's judgment, has the option to again raise its holding via creeping acquisition. Or, to launch yet another open offer for USL shareholders, say lawyers.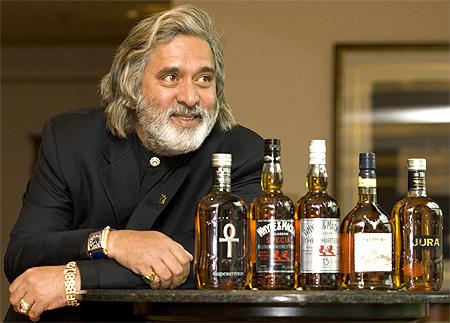 With the stage set for a pitched legal battle over UB Group's shares in United Spirits Ltd in the Supreme Court, Srei Infrastructure, which holds four per cent stake, worth Rs 1,260 crore (Rs 12.6 billion), in USL, said it would hold on to the stake.

"Our funds still have the shares. The trustees of the fund will take their decision based on agreements," said Sunil Kanoria, vice-chairman of Srei Infrastructure Finance.

Lenders to Kingfisher Airlines, led by State Bank of India, had moved courts to get residual rights over these shares after Srei recovered the collateral from the defunct Kingfisher Airlines, making it difficult for Srei to sell the shares, said a legal source.

Srei had acquired the shares at Rs 600 a share, after ICICI Bank sold it the Kingfisher Airlines loan worth Rs 440 crore (Rs 4.4 billion) last year, along with the pledged USL shares. UB Group had pledged the USL shares with banks to get loans for Kingfisher Airlines.

Since then, the USL stock has tripled.

Minor Diageo

Srei officials
say they have an agreement with Diageo to sell the shares but now, they will wait for a decision on these shares by the court.
Lenders have already sent legal notices to Srei, asking it not to sell the shares to Diageo at a price lower than the market price so that they can recover their loans from the UB Group.
Analysts say if court implements residual rights of the lenders over these shares, it will be another blow for Diageo, which is now reduced to minority shareholder, with just 19 per cent stake in USL, following a Karnataka high court order.
Both Diageo and UB Group have said they will appeal to the Supreme Court on this matter.
Public sector banks, which have lent Rs 7,000 crore (Rs 70 billion) to Kingfisher Airlines, have moved courts to get their money back.
So far, the banks have failed to get hold of pledged Kingfisher properties due to litigation.
Apart from giving loans to Kingfisher Airlines, lenders lost money when they converted a part of their loan into Kingfisher Airline's equity worth Rs 750 crore (Rs 7.5 billion).
Till now, the lenders have managed to recover only Rs 600 crore (Rs 6 billion) from UB Group.
Analysts say the only way Diageo can increase stake in USL is by making yet another open offer based on the current market price or through creeping acquisition.
But this will increase the liquor firm's cost about 100 per cent compared to what it paid Mallya while acquiring the company last year.
On Monday, the USL stock fell 3.6 per cent to Rs 2,573, following a Karnataka High Court order that termed void United Breweries Holdings Ltd's share sale to Diageo.