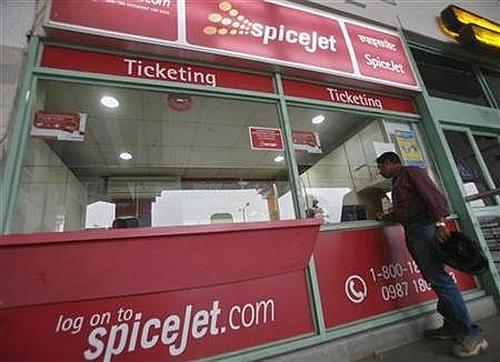 No-frill carrier SpiceJet on Monday announced compensation to passengers for delay or cancellation of flights due to factors within their control, through travel vouchers worth Rs 500 or Rs 1,000.
The 'On-Time Guarantee' programme, which would cover all travellers, would be effective from tomorrow, a SpiceJet statement said, adding that passengers affected due to a delay of more than 60 minutes "due to reasons in control of SpiceJet will be given Rs 500 voucher for their next travel.
"Similarly, passengers traveling on flights which are cancelled or delayed by over 120 minutes due to reasons in our control will be given a voucher of Rs 1,000," it said.
The programme, however, does not cover for any delay due to reasons not in our control such as weather, air traffic congestions, among others, it said.
When a flight gets delayed or cancelled, the passenger would receive a message and mail, used at the time of booking, indicating the voucher details and redemption process. All redemptions would have to be made on the SpiceJet's website.
SpiceJet COO Kaneswaran Avili said "we have delivered a significant improvement in our on-time performance over the last few months."
When asked, a SpiceJet spokesperson said this compensation would be over and above the level mandated by the DGCA.
Aviation regulator DGCA had come out with rules effective from August 15, 2010, on facilities to be provided to passengers by airlines due to denied boarding, cancellation of flights and delays in flights.
In the CAR of 2010, the DGCA has fixed the compensation amount as Rs 2,000 or the value of the ticket whichever is less for a delay of upto one hour, Rs 3000 for upto two hours and Rs 4,000 for delay of more than two hours.
These had detailed the compensation to be paid by an airline to the passengers due to flight delays or cancellation, apart from refund of the air ticket, meals and refreshments and hotel accommodation when necessary.