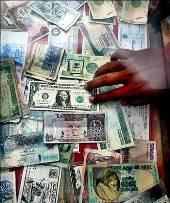 India has received over $9 billion from two foreign schemes, which were announced in September to attract foreign funds and help the country to bridge the widening current account deficit.

"Banks have taken advantage of RBI's liberalisation of FCNRB and Tier I capital schemes. So far, under the two schemes put together, banks have brought in $9.6 billion," Finance Minister P Chidambaram told reporters in New Delhi.

Soon after taking over as RBI Governor on September 4, Raghuram Rajan had announced opening of a swap window facility to encourage banks to lure NRI funds.

Under the facility, banks are permitted to swap fresh FCNR(B) dollar funds, mobilised for a minimum tenor of three years, at a fixed rate of 3.5
per cent per annum for the tenor of the deposit.
Also, he had relaxed norms for banks and allowed them to raise capital abroad to the tune of 100 per cent of their Tier I (equity) capital.
The schemes will remain valid till November 30.
RBI had come out with the special measures to arrest declining value of rupee, which was triggered by widening CAD, which touched a historic high of 4.8 per cent of GDP in 2012-13.
The rupee had plunged to life-time low of 68.85 against the dollar on August 28 but has recovered substantially.
It is trading at around 61 to a dollar.
As regards the CAD, it is likely to be better than the initial estimate of 3.7 per cent of GDP or $70 billion in the current fiscal.