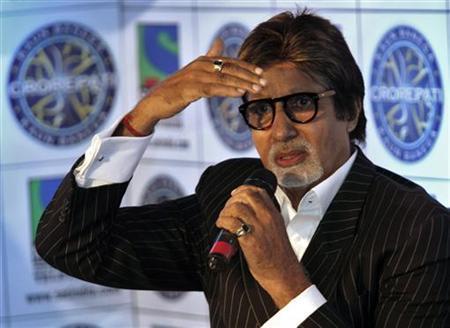 It is that time of the year when Amitabh Bachchan dons the hat of a quiz-master for Indias version of Who Wants to be a Millionaire.
But there will be a difference this time.
Instead of operating from the usual set in Mumbais Filmcity a dedicated compound with numerous studios where TV shows and many a film are shot he will be going to smaller cities, too.
And, not just for road-shows, which would be a vital part of the marketing this year, but also for shooting a few episodes, with local people making up the shows live audience.

Inclusiveness is Kaun Banega Crorepati theme this year.
The channel (Sony Entertainment Television or Sony) will ensure that its target general entertainment channel (GEC) audience gets to experience road-shows.
It has planned such ground events in as many as 100 Tier II and III towns.

But industry observers say that reaching out to the smaller towns has a more deep-seated motive than tactical marketing.
Shooting in small towns, to establish a connect, will increase the sampling of the channel itself.
Multi Screen Medias flagship GEC, Sony, has had a pre-dominantly metro-skewed image, because of both its programming and distribution.
As a result, it has been struggling to add and retain new viewers for a couple of years.

Having slipped out of the top three GECs-list, the comeback strategy laid out by a new top management heavily veered towards resonating with audience not just in metros but also in towns with less than 100,000 population.
Increasing sampling in smaller towns was a clear objective and Sony seems to have chosen its tent pole reality show to stride towards its goal.

Sonys business head and senior executive vice-president, Nachiket Pantvaidya, had earlier said that one of the important ways to get more viewers would be to re-engineer the programming in a way that the core propostition of Sony remains the same, but at the same time, provide incentive for viewers in newer markets to sample its content, and slowly retain these viewers.

Sony is struggling to break into the top three list of GECs, a far cry from the time when it was a consistent second.
Working according to the market wisdom of how it should be looking at non-metro towns to improve performance, Sony is first taking Bachchan and the team to Surat where an episode with a live audience will also be shot.

Sonys urban skew has tripped up its TAM viewership ratings as well. With the exception of CID and Crime Patrol, very few of its prime-time weekday shows have done well.
TAM data suggests that the reach of the channels prime-time shows have only been picking up in the last two months, having taken a hit over the past two years.

Inclusiveness to help
KBCs theme of inclusiveness is geared to increase the involvement of viewers across more towns and cities.
At the same time, the campaign touches upon socially-sensitive topics such as celebrating the co-existence of different communities and faiths.

The execution of the contestants back-stories (snapshots of their lives) will also be treated differently.
While it is a very strong property, every show needs some sort of re-invention from time to time.
This year, we will also innovate with the back-stories of the contestants, says senior vice-president and marketing head, Sony, Gaurav Seth.

Headlined by the phrase, Yahan Sirf Paise Nahi, Dil Bhi Jeete Jate Hain (not just money, but hearts are won here, too), the promos look at themes such as racism and communal harmony.
One of the ads has a young girl from the Northeast take an audience poll on a straight-forward question from Bachchan: Which country does Kohima belong to? When everyone answers India, she asks, We all know it, but how many of us acknowledge it.
The films have won applaud from netizens on social media.
The campaign has been created by Leo Burnett and executed by Opticus.

Saurabh Varma, CEO, Leo Burnett India, says, Over the years, we have noticed that people wait for the KBC promos as much as they wait for the next season of KBC.
And, the participants who reach the hot-seat take more than just money from the stage. Our latest promos take this insight to a larger, national and social canvas.
KBC ads effectively use the power of communication to raise the collective conscience of the nation.

Sonys other venture with Bachchan, Yudh, has yet to take off in terms of viewership, making it imperative for KBC to click with more of the audience, this time around.