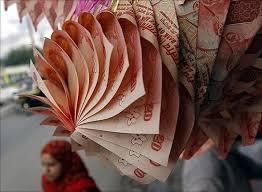 Breaking a two-month fall, non-resident Indian deposits saw an inflow of $1.87 billion in July as Indians abroad brought in money to benefit from a weak rupee.

These deposits rose to $73 billion, according to Reserve Bank of India data.

The deposit base had shrunk in May ($918 million) and June ($615 million).

During April-July flows into NRI deposits were $6.65 billion compared to $7.48 billion in April-July 2012.

Abraham Chacko, executive director, Federal Bank, said "We have seen a rise in flows due to weak currency."

There has been a 30 per cent rise in NRI deposits with Kerala-based private sector banks.

According to RBI data, all the three categories of NRI deposits -- FCNR (B), NRE and NRO -- saw net inflows in July.

The flow was highest into NRE deposits, at $1.5 billion, followed by $321 million in FCNR-B
deposits.
In August and September, RBI took many steps to attract NRI deposits, to get more foreign exchange to help stem the rupee's fall.
In August, it allowed banks to offer interest rates without any ceiling on NRE deposits with maturities of three years and above.
Banks would not have to maintain cash reserve ratio or statutory liquidity ratio requirements for any incremental NRE and FCNR (B) accounts.
RBI also raised the interest ceiling for FCNR (B) deposits, for three-year to five-year maturities by 100 basis points to Libor plus 400 bps.
On September 4, it decided to offer banks a window to swap fresh foreign currency non-resident (banks) dollar funds.
This was to boost sentiment in the foreign exchange market and attract dollar flows. These are mobilised for a minimum tenor of three years and at a fixed rate of 3.5 per cent per annum.