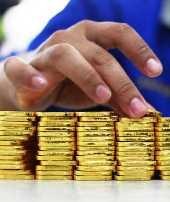 A number of jewellery units and workers have been idled due to the severe shortage of gold in the wake of several restrictions on the yellow metal's import.

Imports in April and May together were a little over 300 tonnes.

This fell to 38 tonnes in June. Excess imports in May gave some initial relief but that cushion is long gone.

"Several jewellery units and artisans are idle. Demand has also fallen.

"This is true not only for gold jewellery but also diamond jewellery and cutting and polishing units," said Haresh Soni, chairman of the All India Gems and Jewellery Trade Federation.

"Business has halved in the past few weeks."

The jewellery industry's size is estimated at $45 billion (Rs 2.7 lakh crore), involving 600,000 units and employing a little over 10 million people.

Small and medium-size diamond cutting and polishing factories have also been badly affected, for, apart from the gold problem, the fall in the rupee's value has hit the supply of rough diamonds.

"Around 10 per cent of the factories in Surat have been closed, with another 10-15 per cent left with no work at all.

"They are awaiting a change in government policy for adequate supply of gold, coinciding with the restoration in demand both from the domestic and international markets," said Pravin Nanavati, joint secretary,
Gujarat Heera Bourse.
Skilled artisans have already started shifting to other sectors, including agriculture.
The revival in textile orders from abroad has also accommodated some unemployed diamond artisans.
There is also a slide in gem and jewellery exports.
These fell 16.5 per cent to $2.7 bn (Rs 16,200 crore) in May.
In June, the decline could be in double-digits.
Exporters are now hoping that with indications of a recovery in the US economy, orders would start reflowing in a month or two.
A Surat-based jewellery manufacturer and exporter said companies with large bank loans or dependent on these for working capital would be affected more.
Since the Reserve Bank of India (RBI) directed the entire payment upfront to banks for import of gold, costs have surged for jewellery manufacturers.
Premiums have also risen for spot delivery.
Imports in July are also expected to be lower, aggravating the supply crunch.
Said a senior industry official, "Banks have categorised jewellers under the high risk category and renewal of loans is becoming difficult.
For working capital, they are dependent on cash-credit limits." Old loans are getting repaid, while new loans/limits are not coming so easily.
The AIGJF has petitioned the central government and finance minister, complaining that normal functioning of the trade is being damaged.
They fear further problems ahead, as losses will make it more difficult to get bank credit.