Narendra Modi had stressed need for shifting focus from port development to 'port-led development' model to maximise gains
The Prime Minister's Office has asked the Shipping Ministry to expedite work on ambitious Sagarmala project, aimed at port-led development in the coastal states.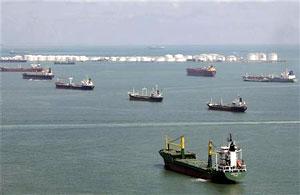 "The nodal point for Sagarmala project will be the Ministry of Shipping. This project needs to be expeditiously worked out by integrating all components i.E. Port facilities, central ferry services, tourism infrastructure and inland water transportation," said an official communication from the PMO to various infrastructure ministries.

Last week, addressing a function at Jawaharlal Nehru Port Trust SEZ in Mumbai, Prime Minister Narendra Modi had stressed the need for shifting focus from port development to 'port-led development' model to maximise gains.

The government, he had said, had conceived 'Sagarmala', an ambitious project for maritime states, envisaging not merely port development, but port-led development which would include ports, SEZs, rail, road, air and waterway connectivity with the hinterland, including linkages of cold storage and warehousing facilities.

Noting that two-thirds of all global trade and 50
per cent of container trade happens through the Indian Ocean, Modi had said that "ports can become gateways to India's prosperity".
The communication has also directed the Ministry of Road Transport and Highways to look into the possibility of constituting a task-force besides use of technology to check evasion of taxes at toll plazas.
"Toll plazas and border checkposts should make use of technology so that tax evasion, overloading and delays can be eliminated. A task force may be formed to look into these aspects," the PMO said.
It added that similar targets should be set for level 2 infrastructure such as rural roads, drinking water etc and "PMO will work on this and finalise target for it".
The directions come at a time when the prime minister is scheduled to review the performance of key infrastructure sectors, including highways, shipping, coal and power at a meeting early next month in respect to the targets set.
Modi had met the secretaries of nine infrastructure ministries last month to set targets for 2014-15 and to identify key projects in areas like roads, power and railways.
The Centre is keen to speed up infrastructure development and increase investments to boost economic growth which remained at sub 5 per cent level during the previous two fiscals.