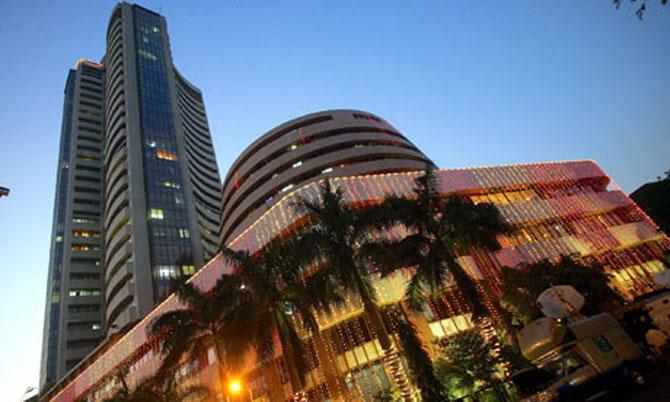 India Inc's earnings seem to have gathered momentum with a surge in the BSE Sensex over the past two quarters.
In view of improved profitability during these quarters, Bloomberg's consensus earnings per share (EPS) estimates for the Sensex for 2015-16 have been raised 4.2 per cent to Rs 1,873 from Rs 1,791 at the end of the June quarter.

There had been an upgrade in EPS estimates in the June quarter as well — of a little less than one per cent over mid-May (the end of the January-March earnings season).
Between 2013-14 and 2015-16, the EPS is expected to increase at a compound annual growth rate (CAGR) of 17.2 per cent —nearly double the 8.7 per cent between 2011-12 and 2013-14. This implies strong earning growth will continue and should reflect on the market as well.
"Though the year of windfall gains (for the market) is behind us, the Sensex will see decent growth over the next two years. Our March 2015 Sensex target stands at 30,000, about 13 per cent higher from the current level. We like cyclicals, such as automobile, construction and real estate stocks, and remain cautious on banks, which will face challenges in 2015-16," says Saurabh Mukherjea, chief executive (institutional equities), Ambit Capital.
A large part of the earnings growth is expected to be driven by domestic cyclical sectors, still trading at a discount to their historical average price-to-book value, believe analysts.
Rajat Rajgarhia, MD (institutional equities), Motilal Oswal Securities, says: "We have raised our 2015-16 EPS estimates for the Sensex by one per cent to Rs 1,854 — this 21 per cent higher than 2014-15. Earnings growth in 2015-16 will be driven by cyclicals like the financial, capital goods and energy sectors."
As private investment picks up and given that the rupee has stabilised, cyclicals are likely to see improvement in earnings.

Even as defensives stand to benefit from improved fundamentals, such as a pick-up in domestic demand (fast-moving consumer goods) and global deals environment (information technology and pharmaceuticals), most analysts believe their earning estimates might not see significant upgrades from here; they will continue to grow at the healthy rates seen in recent past.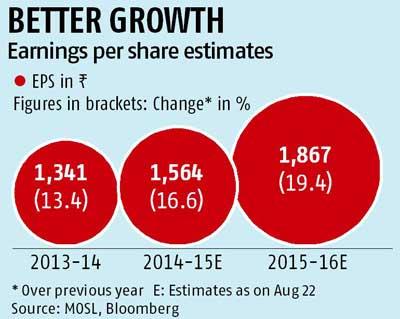 For 2014-15, Bloomberg's consensus EPS estimates for the Sensex stand at Rs 1,565, an increase of 16.6 per cent over the previous financial year. Most experts, however, say the current fiscal earnings have little significance, as the market has already factored these in. Also, the impact of policy measures taken by the new government will kick in only from 2015, they add.
Earning upgrades have been followed by upward revisions in the Sensex target, as well as valuations. "After earnings for the June quarter of 2014-15, we raised our earning estimates for 2014-15 and 2015-16 by six per cent and seven per cent, respectively," says Dhirendra Tiwari, head of research, Antique Stock Broking.
With rising earning growth, valuations also tend to increase. At present, the Sensex is trading at 18.8 times the estimated earnings for 2014-15 and 14.1 times the estimates for 2015-16.


These are lower than the 20 times one-year forward price-earnings multiples seen by the Sensex in earlier periods of robust economic growth, indicating headroom for a further upside to valuations.
According to a Reuters report on August 13, foreign research house Nomura raised its Sensex target to 30,310 by the end of August 2015. It said a pick-up in cyclicals' growth was being ignored by the market, which was obsessed with bold policy and reform moves by the new government.
Factors like a stable government at the Centre, improving macroeconomic indicators and better outlook on earnings are going to be key positives for the market. The key risks are the policy initiatives and the pace of their implementation.
The June quarter saw quite a few positive signs. For instance, earning growth in non-export companies improved to 12 per cent, against low single-digit growth rates in the preceding 10 quarters.

Barring capital goods, most sectors posted double-digit revenue growth rates in the quarter. Going forward, a pick-up in the economy and consumption demand will act as enablers for higher revenue growth, believe analysts.

Both revenue and earning growth are likely to be more broad-based from here on, as cyclical sectors see a recovery.

In the June quarter, state-run bank, energy, automobile, cement and metal stocks saw a high number of upward ons in 2015-16 earning estimates.

Another positive factor was that the number of companies that saw upgrades in consensus EPS estimates in the June quarter was higher than those in the previous quarter. Of the 312 top stocks by market capitalisation, 122 witnessed upgrades in 2014-15 estimated earnings, compared with 98 in the March quarter.