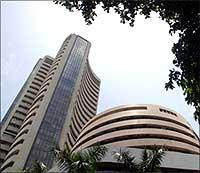 The bears re-asserted their supremacy in the last hour of trade to cut short the dominance of the bulls through most part of the trading session.
The markets had a gap-up opening on the back of firm global bourses and receding fears surrounding the social upheaval in Egypt and seemed set to sign off the day in style, before succumbing to selling pressure at higher levels.
The Sensex shed more than 200 points from the highs of the day to end at 18090, up 68 points and the Nifty ended at 5432, up 14 points.
The midcap and smallcap indices, however, ended absolutely flat at 6754 and 8362 respectively.
There were positive cues from the global market front this morning.
While the Egyptian President Hosni Mubarak's assurance of stepping down after the expiry of his current term failed to pass muster with the protesting citizenry of Egypt, it had apparently allayed fears that the continuing turbulence in Egypt could derail the shipments through the Suez canal and thereby impact the global markets.
The US markets expectedly had a good session, Asia followed suit and India, which has been waiting for the elusive rally after the tremors of the recent past, took the bull by the horn before caving into selling pressure towards the fag end of
trade.
It may be recollected that the Sensex had received a battering of 300 points and the Nifty had lost 88 points in the previous trading session.
Asian stocks rose on Wednesday, with the key benchmark indices in Hong Kong, Indonesia, Japan and Singapore rising between 0.83% and 1.81%.
The Chinese stock markets are shut till February 8, while the South Korean and Taiwanese markets are also closed for the Lunar New Year holidays this week.
In US market action overnight, the Dow Jones and S&P 500 closed at their highest levels since June 2008 on easing concerns over the Egyptian imbroglio and strong corporate earnings and signs of a surge in US manufacturing.
The Dow gained 148 points, Standard & Poor's 500 Index rose 21 points and Nasdaq Composite Index added 51 points.
And European shares rose on Wednesday, extending the previous session's near three-week high, as strong macroeconomic data and buoyant corporate earnings continued to fuel investor risk appetite.