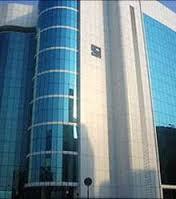 Capital markets regulator Securities and Exchange Board of India has suggested that banks and financial institutions from public sector be considered as 'public shareholders' in stock exchanges, but the view has been rejected by Finance Ministry.

The issue is likely to be discussed on Thursday at a meeting of Sebi's board, which would also be apprised of the impact of the Finance Ministry's decision for not agreeing to such a proposal from the capital markets regulator, sources said.

If the current stalemate continues, three national stock exchanges -- MCX-SX, United Stock Exchange and BSE -- would have to increase their public shareholding by 25.66 per cent, 1.72 per cent and 0.845 per cent respectively by April 2015.

At National Stock Exchange, the public shareholding is at 57.48 per cent, which is well above the required level of 51 per cent.

Sebi is of the view that any restrictions on shareholding of banks and financial institutions by allowing them to hold shares in stock exchanges only as 'public shareholders' would hamper their participation in the development of the market.

However, Finance Ministry has rejected any relaxation in the public shareholding norms for stock exchanges, saying it would violate the statutory provisions of relevant Acts, sources said.

The Securities Contracts Regulation Act provides for at least 51 per cent stake in a stock exchange to be held by the public shareholders, which can not include those having trading rights on the bourse.

Earlier, banks were allowed to be classified as 'public shareholders', provided they do not become trading members in the stock exchanges. However, after introduction of currency derivatives segment, it came to light that trading members would necessarily have to be banks and therefore the rules do not allow them to be included in public category.

Subsequently, the matter was discussed by Sebi board and was taken up with RBI and the Finance Ministry.

As an interim measure, Sebi had decided in April 2012 that the existing position would continue for a period of three years or till the time necessary amendments are made in the regulations.

However, the Finance Ministry has now opined that inclusion of shareholders with trading rights in the 'public' category would violate statutory provisions of relevant norms.

Besides, a Bimal Jalan Committee on 'Review of Ownership and Governance of Market Infrastructure Institutions' also recommended that no trading or clearing member be allowed on the board of any exchange.

Subsequently, Sebi has told the ministry that the regulations are primarily aimed at segregating ownership and management of the exchange from trading members to avoid any conflict and the intention was not to 'keep the institutional investors especially banks and financial institutions away from the management of the exchange'.


"The intention was to keep the trading members, who were individuals, family houses, corporates etc away from the management of the exchange to bring more transparency," Sebi has told the Finance Ministry.
Advocating differential treatment to institutional investors, Sebi said that their ownership was scattered and they were run by independent professional management.
Besides, such investors follow 'good governance practices', are accountable to various stakeholders, including sectoral regulators like Reserve Bank of India and Insurance Regulatory and Development Authority, and are considered to be 'informed investors' that can provide quality input in the functioning of an exchange.
"For development of the capital market, the institutions have played a very significant role so far and these institutions lend credibility and financial strength to stock exchanges.
"Therefore, their larger participation in Market Infrastructure Institutions is beneficial for the long-term development of the securities market," Sebi said.
Rejecting these arguments, the Finance Ministry again informed Sebi that the fundamental spirit of demutualisation as provided in SCRA should not be diluted and therefore any amendment to SCRA was not possible.
As per current norms, the total public shareholding in MCX-SX stands at 25.34 per cent (as against required 51 per cent), while the same in USE is 49.28 per cent, 57.48 per cent at NSE and 50.155 at BSE.
At MCX-SX, the public shareholders who are not trading members hold 12.14 per cent, while associates of public sector banks and financial institutions have 13.2 per cent.
According to Sebi, the non-inclusion of public sector banks and financial institutions in the definition of 'public' could have 'far reaching implications for the securities market in general and stock exchanges in particular'.
It feels that limiting of shareholding of banks and financial institutions, who can provide requisite financial support and credibility, may be a major hurdle in formation and continuation of market infrastructure institutions and in development of capital markets.
Also, the presence of large institutions as shareholders of MIIs can be 'a culture of good governance' which strengthens investor confidence.
With regard to the currency derivatives market, Sebi feels that banks and FIs play an active role in this segment and their participation in debt segment was critical for the development of this particular market.
"Restrictions on their shareholding may hamper their participation in the currency derivatives and debt segments and adversely impact the development of these markets," a senior official said.