Paving the way for Jet Airways' proposed sale of 24 per cent stake to Abu Dhabi-based Etihad, market regulator Sebi has opined that the deal in its revised form does not give controlling powers to the foreign carrier and is in compliance with the regulations.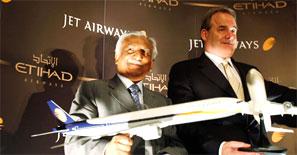 After studying the revised structure, the Sebi has observed that the Rs 2,058 crore (Rs 20.58 billion) deal should not trigger a mandatory open offer for purchase of shares from public shareholders and Etihad would not be considered a promoter entity in Jet.
However, Sebi has left it to the government to take a final call on the revised Commercial Cooperation Agreement (CCA) proposed by Jet and Etihad Airways, sources said, while adding that these observations have been issued as per the given facts about the proposed deal.
The deal was announced in April and has been stuck due to objections from regulators, including the Securities and Exchange Board of India (Sebi) and the Competition Commission of India, as also other agencies, as it was deemed to yield significant control of the airline to Etihad.
The Foreign Investment Promotion Board approved the deal in July with some conditions after both parties assured it that 'effective control' would remain with local promoters.
The proposal will now be considered by the Cabinet Committee on Economic Affairs.
The Competition Commission of India (CCI) had also sought changes in the original deal. The two parties had informed the fair trade regulator about the changes in the deal and approval from the CCI is expected soon.
The Sebi is believed to have said that Etihad will not be required to make an open offer to Jet shareholders and the two airlines will not be treated as persons acting in concert.
"...the rights proposed to be acquired by Etihad do not, prima facie, appear to result in change in control and consequently, do not attract the provisions of...Takeover Regulation, 2011," it has opined.
The Sebi informed the finance ministry about its stand on September 25, while these observations have also been communicated to BJP leader Subramanian Swamy, who had raised objections to the deal and had written to the regulator.
Jet has proposed to make a preferential allotment of shares to Etihad to give it a 24 per cent stake.
The Sebi has also asked Naresh Goyal-led Jet promoters to divest a 6 per cent stake before allotting the shares to Etihad "in the interest of corporate governance and to ensure well dispersed public shareholding."
Goyal would eventually have a 51 per cent stake in the company, Etihad 24 per cent and the public the remaining 25 per cent.