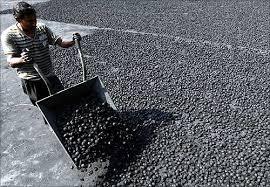 The Supreme Court is likely to decide on Monday the fate of the 194 coal blocks whose allocations it had termed illegal last week.

Since the court had earlier questioned distribution of mining rights through the screening committee route, experts say the solution worked out would be weighed on the basis of legality.

Besides, the mineral-rich states of Jharkhand, Odisha, Chhattisgarh and Madhya Pradesh are learnt to have written to the Centre, requesting it not to propose re-allocation of blocks in its suggestion to the court.

"These states have cited issues like the cost involved in allocation and mining to say re-allocation would make the output costly, especially for the blocks allocated years ago," said a senior coal ministry official who did not wish to be named.

The country's coal reserves are mostly spread across seven states -- Maharashtra, Madhya Pradesh, Chhattisgarh, Odisha, Jharkhand, Andhra Pradesh and West Bengal.

In their past communications, these states had questioned the Centre's power with regard to allocation of coal and said this was against the Coal Mines Nationalisation Act, 1973.

Finance Minister Arun Jaitley had on Saturday said: "The Supreme Court judgment will move the system towards a fairer mechanism for allocation of resources."

However, the situation is more complex, as there are more than one category of allottees that will be affected -- at stake is Rs 2 lakh crore (Rs 2 trillion) worth of investment.

According to a Karvy report, the banking sector had an exposure of Rs 5 lakh crore to the power sector as of June this year.

The court, in its interim order last week, had hinted at formation of a committee to go into allocations on a case-by-case basis.

But Kameshwar Rao, energy, utilities & mining leader at PricewaterhouseCoopers, said: "There will be a problem with all options.
"If there is no legality to allocations other than those to central government entities, the issue of legality will remain even if a solution is found."

He said the government would have to deal with it by a special arrangement, like it would do if a company defaulted.

He cited the example of Unit Trust of India, where the government created a special entity to which all of UTI's assets were transferred.

The other option could be transferring the rights to Coal India or any government-run entity like NTPC.

The affected companies with operational mines could be provided with linkages.

Rao emphasised the need to have a law in place to continue with operations without any bearing on the investigations being carried out by the Central Bureau of Investigation.

"Any permanent arrangement cannot be such that everything continues as usual."

Of the 216 blocks allotted between 1993 and 2010, private companies were allocated 105, public-sector undertakings got 99 and 12 allocations were made to ultra mega power projects.

After adjusting 24 de-allocations and two re-allocations, the total number of coal blocks comes to 194.

The mining rights given out by state governments, too, have been declared illegal. Rao said the court held there was no sanction in law for such mining, since there was no end-use project.

"The states could have put in place traditional contracts for mining, instead of getting into commercial contracts with private companies."

Though there could be an appeal against the order, the government did not appear in a mood to contest it and was seeing this as an opportunity to reform, he added.

HANGING IN THE BALANCE
Jun '93: Coal Mines (Nationalisation) Amendment Act to allow captive coal mining passed
1993 to 2009: Govt allocates 201 coal blocks to private and public-sector firms for captive consumption
Aug 17, '12: CAG alleges govt extended undue gains to companies by not auctioning 57 blocks allocated between 2006 and 2011
Aug 27, '12: PM tells Parliament that CAG's assessment of Rs 1.86-lakh-crore loss to exchequer due to allocation of blocks not justified
Sep '12: CBI begins grilling in the alleged coal scam after Central Vigilance Commission forwards complaints; raids are conducted, FIRs filed
Jun '13: FIR filed against JSPL Chairman Naveen Jindal; former minister Dasari Narayan Rao also named as an accused
Oct '13: FIR filed against industrialist Kumar Mangalam Birla and former coal secretary P C Parakh for alleged criminal conspiracy and abuse of official position
Aug 25, '14: SC terms allocations made between 1993 and 2010 illegal
Sep 1, '14: Apex court likely to decide the fate of the allocations termed illegal