State Bank of India (SBI), the largest lender to ailing Kingfisher Airlines, wants the airline's promoters to bring in a minimum of $1 billion (about Rs 5,400 crore) from any source by month-end for its revival.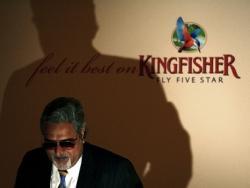 "...we do not put a gun on their head but the more comes in the better because airlines are a very capital intensive business. I think about $1 billion would be a good starting point," SBI chairman Pratip Chaudhuri told reporters on the sidelines of World World Economic Forum on India summit.

"We have said please attend to the capital needs urgently and we would like to see some tangible progress at least by November 30," he said.

"If a company has to be well leveraged financially and not over leveraged, looking at the company's financial position, $1 billion equity could be starting point," he added.

Asked what happens after November 30 deadline, Chaudhuri
said "there can be no, yes, or no answer."
SBI, the consortium leader of 17 banks, has about Rs 1,200-crore (Rs 12 billion) of exposure to Kingfisher.
He said loans given to the debt-ridden airline, promoted by liquor baron Vijay Mallya, has been non-performing and SBI has already made provision for the debt as per RBI's norms.
Emphasising that fresh fund infusion is imminent, Chaudhuri said "we are not interested where the capital is coming from - whether it is coming from Mallya, his group company, outside Indian, overseas, airlines whatever be the source we are agnostic about the source but we would like to see capital be infused."
The consortium, led by SBI, has made available a total Rs 7,000 crore (Rs 70 billion) to Kingfisher to help it keep flying.
Kingfisher is burdened with a loss of Rs 8,000 crore (Rs 80 billion) and a debt burden of another over Rs 7,524 crore (Rs 75.24 billion), a large part of that has not been serviced since January.