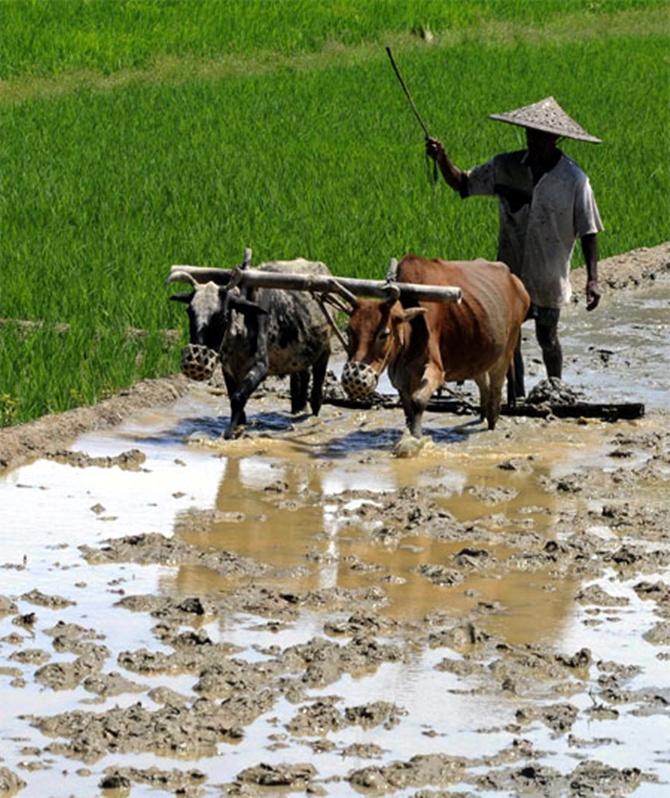 For the first time since 1991, consumption in rural India has grown at a faster pace than in urban areas.
The United Progressive Alliance (UPA) is often accused of playing the party-pooper in urban India. But the current economic mood in rural parts of the country, it appears, is the best in the past 20 years.
During the UPA government's second term in office, rural India's consumption expenditure grew at a faster pace than urban India's — for the first time since 1991.
From 2007-08 to 2011-12, the monthly per-capita consumption expenditure (MPCE) in rural areas increased at a compound annual rate of 16.7 per cent, compared with 15.6 per cent in urban centres, shows the consumer expenditure survey of the National Sample Survey Organisation (NSSO). In the previous three years, rural consumption had risen at a CAGR of 11.4 per cent, against 11.8 per cent for urban areas.
The trend was visible across the country, with 15 of the 17 major states reporting faster consumption growth in rural areas. Haryana and Uttar Pradesh, though, were an exception. In Gujarat and Maharashtra consumption demand was similar in both rural and urban parts.
The NSSO survey, conducted every five years or earlier, captures household monthly expenditure on food, tobacco & intoxicants, fuel, conveyance, clothing, bedding, education, medical services, rents, consumer durables, personal care and house construction.
The latest round of the survey shows that urban consumption expenditure rose 86 per cent in 2011-12, a slower rate than the 92 per cent seen in 2007-08 and 63 per cent in 1993-94 (the first consumption survey after the economic reforms of 1991). This trend is a departure from the one observed since the reforms.
In many states, the gap between urban and rural consumption has closed at a very fast pace. In Bihar, for instance, rural consumption has increased at a CAGR of 17.2 per cent, against 8.2 per cent in urban areas.
In Chhattisgarh, rural spending rose at 15.3 per cent (urban 5.6 per cent) and in Odisha at a CAGR of 15.7 per cent (urban 7.8 per cent).
Robust demand growth in villages has helped makers of consumer goods beat the economic slowdown and sagging sales due to weakening consumer confidence in urban India. Since 2005-06, the combined net sales for India's top 25 consumer goods companies has risen at a CAGR of 16.3 per cent — more than double the pace seen in the previous five years.
The previous time these companies reported a sustained double-digit topline growth rate was between 1990-91 and 1998-99. Some of the companies in the sample are ITC, Hindustan Unilever, Asian Paints, Colgate Palmolive, Nestle, Dabur, Britannia and Pidilite (see chart).
"Rural demand has been the key growth driver for us and it has spared our blushes from an otherwise lacklustre demand scenario in urban areas in the past few years," says Jyothy Labs CEO S Raghunandan, who expects the trend to continue. Jyothy has stepped up marketing and sales & distribution efforts at rural centres and in smaller towns to take advantage of this growth opportunity.
The story for cement makers is similar. "There has been a big boom in construction of houses in villages and smaller towns. This has sustained the overall demand, despite a construction slowdown in large cities," says Ashok Bhandari, chief financial officer of Shree Cement, one of the top cement makers in North India. The company has appointed nearly 25,000 dealers in Rajasthan, its home market. It has now forayed in Bihar as well.
Among automobile products, two-wheelers continue to report growth, even as car makers have been hot by a fall in demand. Motorcycles, especially the entry-level 100-cc ones, have become the preferred mode of personal transport.
Food continued to be the biggest item of spending, accounting for 53 per cent of an average rural Indian's household consumption during 2011-12. This included 10.8 per cent for cereals and cereal substitutes, eight per cent for milk & milk products and 6.6 per cent for vegetables.

Among non-food items, fuel for cooking and lighting accounted for 8 per cent, clothing and footwear for seven per cent, medical expenses for 6.7 per cent, conveyance and other consumer services four per cent each and consumer durables 4.5 per cent.
For an average urban Indian, 42.6 per cent of the value of household consumption was accounted for by food, including 6.7 per cent by cereals and seven per cent by milk & milk products.
Economists attribute the surge in rural consumption to the UPA policy of putting more cash in the hands of rural residents through higher minimum support price for food grains and higher wages under the Mahatma Gandhi National Rural Employment Guarantee Scheme (NREGS).

"There has been a steady rise in the minimum support price for wheat and paddy (rice) over the past five years. This has provided higher income to farmers. Besides, wages under NREGS are linked to inflation; this put a floor to wages and boosted income for daily-wage earners," says Madan Sabnavis, head economist at Care Ratings. As rural households have higher propensity to consume, higher income has translated into greater spending.
The trend has been aided by a rise in share of non-farm activity in rural economy. "Rural economy is no more about farming. Nearly half the rural income is accounted for by non-farm activities like construction, retail, repairs, transport, communications and financial services. Their importance continues to rise as core agriculture sector has done well and the government has been supportive," says Devendra Pant, chief economist at India Ratings.