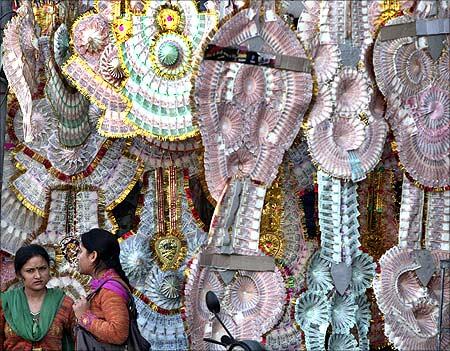 Seeking to dispel the perception of gloom and pessimism, Finance Minister P Chidambaram on asserted in the Lok Sabha that rupee will correct itself and the growth will bounce back.
Conceding that economy is going through a period of stress, he said, the government has been taking corrective steps to check rupee slide.
"The value of rupee is indeed a matter of concern...Rupee just finds its appropriate level...we think it has overshot its value. Rupee correction will take place", he said, winding up a discussion on the first batch of supplementary demands for grants which was later passed by voice vote.
The value of rupee depends upon various macro-economic factors like fiscal deficit, current account deficit and inflation, he said, adding Prime Minister Manmohan Singh has said some of the corrections in the value of rupee were the most-needed adjustments.
"If inflation is high, if our fiscal deficit is high and if our current account deficit is high...it will necessarily mean correction in the value of rupee...(However) the correction is the over-correction. It has overshot its true value. The rupee is more undervalued than it should be," he said.
The rupee touched all time low of 68.80 to a dollar last month but since then it has strengthened.
Disappointed over decline in growth in the first quarter of 2013-14 to 4.4 per cent from 5.4 per cent during the corresponding period last year, he said, "We should (not) give room to gloom and pessimism. These ups and downs will happen in the life of a country, we will bounce back".

Responding to the criticism of Opposition that not enough was being done to improve the battered economy, Chidambaram said, "number of measures (have been taken) to strengthen and restore and improve confidence in Indian economy."
He further said that although the Central Statistical Organisation (CSO) reported a growth of 5 per cent in 2012-13, most of the states have reported higher growth.
"Only two states reported state GDP growth of less than 5 per cent. All other states reported above 5 per cent...while states are reporting much higher growth rates, the CSO is reporting 5 per cent growth rate...looking at these numbers, we will try to find out where growth is happening and where is not happening and corrective measures will be taken," he said.
The Minister further said that the UPA-I delivered the highest growth in any five-year period in the history of independent India and the average growth rate in the first four years of UPA-II was more than the NDA's five year average of 5.9 per cent.
The Minister also reiterated the fiscal deficit target of 4.8 per cent of the GDP for 2013-14 is a "red line and red line will not be crossed."
The government last month sought Parliament's approval to spend an additional Rs 7,500 crore including Rs 1,000 crore for setting up of 'Nirbhaya Fund' for safety of women and a similar amount for women's bank.
As most of the grants were of technical nature and would be matched by savings elsewhere, the cash outgo has been limited to only Rs 127.14 crore. The Minister said he had been very careful in allocating the funds in view of the need to keep fiscal deficit under control.
Allying apprehensions about funding of the Food Security Bill, Chidambaram said adequate money has been provided in the budget for the current fiscal and "we will fully finance" the requirements in the next budget also.