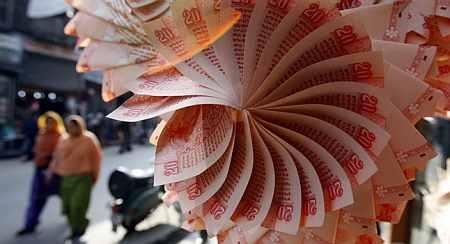 The rupee is likely to strengthen to 60-61 level by this fiscal-end on expectations of improvement in current account deficit (CAD) and higher inflows from overseas investors, according to analysts.
The rupee, Asia's worst performing currency, has fallen over 20 per cent against the dollar since April. The currency had dropped to a fresh life-time low of 65.56 against the greenback on Thursday.
"We expect the rupee to recover from its current level and end FY 2014 at 60 to a dollar," rating agency Crisil said. "We expect the current account deficit to fall to 3.9 per cent of GDP in 2013-14 compared to 4.8 per cent last year.
The correction in CAD is expected significantly in the second half due to a decline in non-oil imports, including gold," Crisil maintained.
A report by British bank Barclays said it expects the rupee at 61 to the dollar in the next 6-7 months "which partly reflects a current account improvement". According to the report, CAD has the potential to "surprise favourably" and pegged its at around $68 billion (from about $80 billion earlier).
"Unless capital flows surprise further to the downside, we think the recent improvements mean India should be able to almost fully fund its current account deficit in FY 2014," it said. Barclays maintained that in the near-term rupee weakness could persist, especially in the absence of policy initiatives to quickly boost capital flows.
"Foreign capital inflows are expected to pick up in the second half when the steps announced by the Government to attract $11 billion in capital inflows begin to materialise," Crisil said.
Foreign institutional investors have pulled out over $12 billion from India's debt and equity markets since May this year. However, Crisil said risks to its forecast on the rupee arises from uncertainty among foreign investors about the impact of the US Fed's likely pull-back of quantitative easing on global liquidity and risk appetite.
Fed Chairman Ben Bernanke had said in May and June that the central bank would start reducing its monthly asset purchase programme by December and completely wind up by mid-July next year.
Market analysts are waiting for the September 18 meeting of US Fed to get some clarity on the timing when the third round of quantitative easing will be rolled back.
"The Fed's meet would perhaps bring more clarity. As uncertainty fades and growth prospects shape clearly, the rupee is expected to revert and stabilise at 58-60 levels by the end of the fiscal," Care Ratings said in a note.
The Reserve Bank, beginning mid-July, unveiled unconventional measures to tighten liquidity and curb speculation in forex market. Earlier, Finance Minister P Chidambaram had said the CAD is showing improvement. "...CAD is narrower. We are exploring structural measures to further reduce CAD to sustainable levels and, in the mean time, to improve capital flows," he had said.
Outgoing RBI Governor D Subbarao had said, "we have structural CAD problem and that requires a structural response but structural measures by definition take time to play in and get the decisive results."