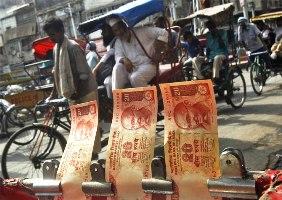 The Finance Ministry on Thursday said the rupee will stabilise within a couple of days as inflows of NRI deposits and export proceeds are likely to be strong.

"Strong FCNR (B) inflows, export realisation will strengthen rupee. . . rupee will stabilise in 1 or 2 days," Economic Affairs Secretary Arvind Mayaram said.

The rupee weakened to 62.58 against the US dollar in the early trade on Thursday.

Mayaram said the weakness in rupee was due to shifting part of dollar purchases by oil companies to open market.

In August, the Reserve Bank had opened a special window to help the three state-owned oil marketing companies -- IOC, HPCL and BPCL -- to meet daily foreign exchange requirements and buy dollars directly from RBI.

"Rupee weakness is due to OMC forex demand being moved to market. 30-40 per cent of OMC demand has moved to market," Mayaram said.

The PSU oil companies are the biggest buyers of dollars, requiring $8-8.5 billion every month for the import of an average 7.5
million tonne of crude oil.
The rupee has recovered over 10 per cent since August 28, when it fell to a record low of 68.85 to the dollar.
The gain in rupee followed optimism that the US Federal Reserve would delay the tapering of its bond buying programme.
To attract dollars, RBI in September had opened a special concessional window for swapping foreign currency non-resident (banks) (FCNR-B) deposits and overseas foreign currency borrowings for banks.
So far, $15.2 billion has come from this window. The window will remain open till the end of this month, and many analysts have pegged the inflows from these instruments to be in the range of $20-25 billion.
The plight of the rupee started after the US Fed in its May 24 meeting hinted at shutting the easy money tap-repurchase of $85 billion worth of T-bills every month.
This had led to a spike in US interest rates, enticing Foreign institutional investors to plumb for better returns back home by exiting emerging markets.
FIIs had sold domestic debt worth more than $52 billion so far in 2013.