On his first day as Reserve Bank of India (RBI) governor, Raghuram Rajan lifted the sentiment in the foreign exchange market by announcing a slew of measures that are set to boost the rupee against the dollar. The rupee is expected to strengthen on Thursday and the outlook looks positive.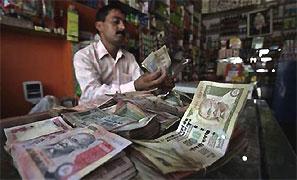 To provide exporters/importers greater flexibility in risk management, RBI enhanced the limit available to exporters to 50 per cent; the limit for importers was raised to 25 per cent. The central bank also offered a window to banks to swap fresh foreign currency non-resident (bank) deposit dollar funds. These are mobilised for at least three years, at a fixed rate of 3.5 per cent a year.

"We have decided the current overseas borrowing limit of 50 per cent of the unimpaired tier-I capital would be raised to 100 per cent and the borrowings mobilised under this provision can be swapped with Reserve Bank of India at the option of the bank at a concessional rate of 100 basis points below the ongoing swap rate prevailing in the market," Rajan said.

On Wednesday, the rupee appreciated about one per cent, closing at 67.09/dollar, compared with the previous close of 67.73/dollar. It had opened at 68.11 and, in intra-day trade, touched a high of 66.81 and a low of 68.62
a dollar. This financial year, the rupee has weakened 23.6 per cent.
"The measures the governor has announced will definitely be very positive for the rupee. I see the rupee opening strong tomorrow, at about 65/dollar," said
N S Venkatesh, chief general manager and head of treasury, IDBI Bank, and chairman of the Fixed Income Money Market and Derivatives Association of India.
"Raghuram Rajan's speech definitely gives a positive tone to the forex market, which will help bring stability to the rupee. But we need to see if there is a change in RBI's forex intervention strategy and style because in the recent past, it has not been very effective in containing the volatility in the rupee. The forex swap will help bring in additional dollars, which is the need of the country, but is a form of subsidy," said Partha Bhattacharya, deputy chief executive, Mecklai Financial.
The next trigger would be the US Federal Reserve's meeting scheduled later this month. "The rupee will see a relief rally if the Fed does not taper on September 17-18 or the market decides tapering is priced in," Indranil Sen Gupta, India economist, Bank of America Merrill Lynch, said in a note to clients.