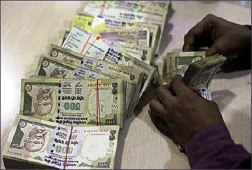 The rupee may see sharp appreciation on the back of measures taken by the central bank and the government as the decline was largely driven by 'fear trade', analysts at Credit Suisse said in a note on Friday.

The bank says the rupee can reach 57-58 levels though the RBI may try to stem the volatility by starting to build reserves at 60.


The resumption of foreign capital inflows could also lead to a significant balance of payment surplus and help the rupee, the investment bank said.
"The 30th September USDINR level will thus be important: if USDINR goes back to 60 by then, the translation impact will be near zero as USDINR was 59.40 on 30th June, but mispriced import and export hedges or complex currency derivatives are likely to get exposed," the analysts wrote.