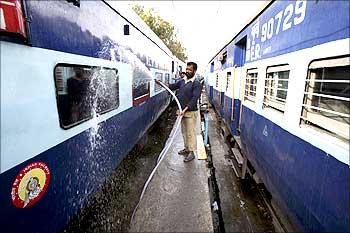 Over 11 crore (110 million) train tickets involving about Rs 9,500 crore (Rs 95 billion) fare were booked during 2011-12 through Indian Railway Catering and Tourism Corporation's online portal, the highest in the past 10 years.

About 11.61 crore (116.1 million) train tickets involving fare of Rs 9,498.45 crore (Rs 94.98 billion) were booked through IRCTC website in the last fiscal.

During 2010-11, 9.69 crore (96.9 million) tickets involving amount of about Rs 8,007.16 crore (Rs 80.07 billion), were booked through the portal, according to information received in response to an RTI query.

As many as 1,99,000 tickets (Rs 26.39 crore or Rs 263.9 million fare) were booked during 2002-03, it said.

The IRCTC, a government of India enterprise, also said that it was getting about 5,000 each telephone calls and e-mails were being received everyday on various queries or issues from the website users.

"There is no such disputed amount on account of booking of train tickets.

"The complaints regarding non-realisation of amount after being deducted from their respective bank accounts are resolved within 3-4 days.

"This is being done on routine manner basis, as such, record is not maintained.

"About 5,000 e-mails and 5,000 telephonic calls pertaining to various queries or issues from e-ticket website users are received everyday," the reply said.

The IRCTC said it does not have detail of unclaimed amount on account of train booked tickets since it only facilitates its customers to book ticket through its website.

"Close coordination is done with all payment gateways to ensure smooth transactions. There is no case of non-refund of customer's money for ticket not booked," it said.

About 727,000 tickets were booked in 2003-04, 12.81 lakh (1.28 million) in 2004-05, 25.73 lakh (2.57 million) in 2005-06, 68.23 lakh (6.82 million) in 2006-07, 1.89 crore (18.9 million) in 2007-08, 4.40 crore (44 million) in 2008-09 and 7.19 crore (71.9 million) in 2009-10.

A total of Rs 98.56 crore (Rs 985.6 million) as fare was collected during 2003-04, Rs 169.86 crore (Rs 1.69 billion) in 2004-05, Rs 317.06 crore (Rs 3.17 billion) in 2005-06, Rs 678.63 crore (Rs 6.78 billion) in 2006-07, Rs 1,700.93 crore (Rs 17 billion) in 2007-08, Rs 3,883.70 crore (Rs 38.83 billion) in 2008-09 and Rs 6,011.45 crore (Rs 60.11 billion) in 2009-10
by the IRCTC, the reply said.
The IRCTC has given back about Rs 18 crore (Rs 180 million) through Ticket Deposit Receipts, a procedure for claiming refunds on various grounds including AC failure and failing to travel on the booked train tickets, between January and October 15, this year.
About 17.78 lakh (1.77 million) TDR request were filed this year and Rs 18 crore (Rs 180 million) were given to public.
In 2011, 18 lakh (1.8 million) TDRs were processed and Rs 22.27 crore (Rs 222.7 million) were refunded, it said.
The IRCTC said about 940,000 such requests were processed in 2010 and Rs 14.95 crore (Rs 149.5 million) were refunded as against 560,000 TDRs processed in 2009 in which Rs 21.77 crore (Rs 217.7 million) were given to different claimants.
A customer can filed TDR if he or she was not able to perform the journey due to cancellation of train by Railways, wrongly charged by Travelling Ticket Examiner and in case train is running late by more than three hours among other reasons.
All TDR received online are forwarded to concerned Railway for finalisation. As and when the amount is received from the Railway against the TDR the same is credited into the account of customer, it said.
To a query over steps being taken by IRCTC to improve the working of IRCTC, it said further upgradation of software and hardware is planned.
The IRCTC has installed high capacity data base servers to improve e-ticketing service.