The Competition Appellate Tribunal has set aside a penalty imposed by Competition Commission of India (CCI) on Kingfisher Airlines [ Images ], which was charged with not furnishing certain information during a probe into a strategic pact announced with Jet Airways [ Get Quote ] in 2008.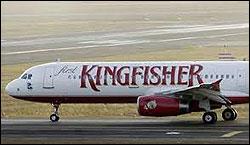 The airline, part of Vijay Mallya-led UB Group, had approached the Tribunal after the CCI imposed a fine of Rs 72.5 lakh on the carrier on January 9, 2012.
After hearing Kingfisher's plea, the COMPAT observed that the CCI had acted beyond its scope in the matter and set aside the penalty.
In its order dated August 29, which was made public today, the Tribunal observed the CCI itself had also kept the matter in abeyance and had termed the letters it sent to Kingfisher for required information as "reminder" notices.
The investigation had at that time was challenged before the High Court and the Supreme court and thus was in abeyance.
The Tribunal further said it is "factually incorrect" to term such communications sent by CCI's Director General as notices, as they amounted to extension of time.
This is the second time that COMPAT has set aside a CCI order against Kingfisher in the same matter.
Earlier in October 2010, CCI had first imposed a fine of Rs 1 crore on Kingfisher, which was later challenged before the COMPAT.
The Tribunal in May 2011 set aside that order and asked CCI to consider the case again, after which CCI lowered its fine to Rs 72.5 lakh. This was again challenged by Kingfisher before the COMPAT.
Last month, COMPAT had reserved its order after hearing both sides pursuant to Kingfisher's appeal.
During the proceedings, the Kingfisher counsel had submitted that the main matter, where CCI had asked its probe unit's Director General of Investigations to look into allegations of cartel formation, has been closed.
He submitted that CCI had closed the case in January 2012 after it did not find any anti-competitive practice by Kingfisher in its strategic alliance with Jet Airways.
Kingfisher had announced in October 2008 an alliance with Jet that included code-sharing on both domestic and international flights and joint fuel management with a view to reduce expenses.
However, the CCI found that Kingfisher had no "reasonable cause" in not supplying information to the CCI for 145 days between May and September 2010 on such an alliance.
The CCI had earlier said that Kingfisher was liable to pay a fine of Rs 100,000 a day for each day of default, subject to a maximum penalty of Rs 1 crore.
However, keeping in view the observations made by COMPAT in its earlier order of May 2011, CCI had levied a penalty of Rs 50,000 per day, totalling to Rs 72.5 lakh.