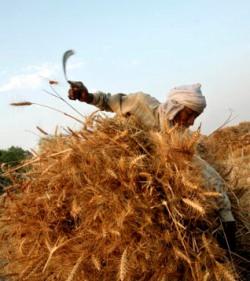 The Orissa government has spent Rs 3620.49 crore (Rs 36.2 billion) under the Mahatma Gandhi National Employment Guarantee Scheme till the end of June this year.
The MGNREGS started in 24 districts of the state from February 2, 2006 while it is in operation in the rest six districts from April 1, 2008. This was stated by Prafulla Samal, the minister for Panchayati Raj in a written response to a query in the state assembly.
Under the above scheme, an expenditure of Rs 167.81 crore (Rs 1.67 billion) was incurred in Bolangir district, Rs 60.38 crore in Boudh (Rs 603.8 million), Rs 64.58 crore (Rs 645.8 million) in Deogarh, Rs 107.17 crore (Rs 1.07 billion) in Dhenkanal, Rs 130.86 crore (Rs 1.3 billion) in Gajapati, Rs 314.43 crore (Rs 3.14 billion) in Ganjam, Rs 8.66 crore (Rs 86.6 million) in Jharsuguda, Rs 197.90 crore (Rs 1.97 billion) in Kalahandi, Rs 189.31 crore (Rs 1.89 billion) in Kandhamal, Rs 173.88 crore (Rs 1.73 billion) in Keonjhar, Rs 194.02 crore (Rs 1.94 billion) in Korpaut, Rs 129.05 crore (Rs 1.29 billion) in Malkangiri and Rs 407.18 crore in Mayurbhanj.